Aluminum foil isn't necessary to cook ribs in the oven, but you do need a slow, gentle oven temperature. Roasting the ribs at temperatures above 300 degrees Fahrenheit will dry them out. Start with some savory seasonings and end with a basting of smoke-infused butter. The entire process from start to finish takes less than 2 hours.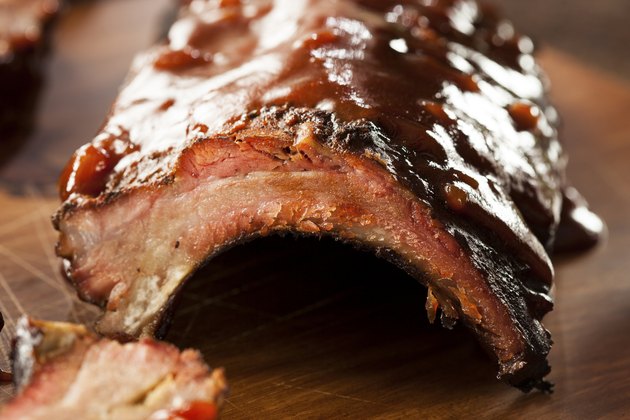 Step 1
Preheat the oven to 300 degrees Fahrenheit. Make a rub for the ribs by combining salt, pepper, garlic powder, paprika, chipotle chili powder, brown sugar -- or any other seasonings you prefer -- in a bowl.
Step 2
Place the ribs bone-side down on a rack on a baking sheet or roasting pan. Rub the seasonings thoroughly into the meat. Bake the ribs in the pan on the middle oven rack until they are golden-brown, and the meat has shrunken from the bones by about 1/4 inch. Baby back ribs typically need approximately 1 1/4 to 1 1/2 hours to cook, while spare ribs and beef ribs need about 1 1/2 to 2 hours of baking time, depending on the number of ribs.
Step 3
Baste the ribs with a mixture of liquid smoke and melted butter, or sprinkle them with mesquite seasoning. They won't have quite the same flavor as ribs smoked over a fire, but they'll taste pretty close.
Step 4
Heat the oven to broil. Slather the ribs with barbecue sauce if you like and place them under the broiler for 5 minutes for a sizzling, crisp finish.
Things You'll Need
Salt

Pepper

Seasonings

Baby back, spare ribs or beef ribs

Rack

Baking or roasting pan

Liquid smoke

Salted butter

Barbecue sauce
Tip
The center of a rack of ribs generally doesn't cook as quickly as the ends. Stick a toothpick in between the middle ribs. The meat should feel soft and pliable. If not, cook the ribs for 15 to 20 minutes longer.
Warning
Cook ribs to 120 F for rare.