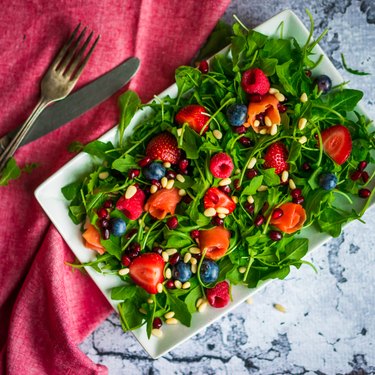 If you have an hourglass shape with extra fat clinging to your stomach area, strengthening your abdominal muscles will help, but it cannot be the only way you attack the fat. Consuming fewer calories than you expend is the only way to get rid of the excess fat. There is no way around this simple fact. Regardless of your shape, the only way to lose fat is by combining a healthy diet with exercise.
Step 2
Decrease your portion sizes. Every food has a different portion size. Measuring your food and sticking to one helping of the recommended portion can help you keep your calories in check.
Step 3
Avoid empty calories such as those in sugary drinks and processed foods. Fill up on healthier calories. As recommended by the U.S. Department of Agriculture, imagine the diagram of a plate when planning your meals. Fill at least half of your plate with fruits and vegetables; only one-fourth is allotted to grains and one-fourth to protein.
Step 4
Choose lower fat options, when possible. Consume lean proteins like chicken and fish. Buy lower fat versions of your favorite dairy products, such as 1 percent milk or reduced fat cheese.
Step 5
Opt for healthy fats. You need some fat for your body to function properly. Get that fat from natural sources such as nuts, avocados, and olives.
Step 1
Perform 2 1/2 to five hours of cardiovascular exercise every week. This can be broken down into segments as small as 10 minutes as long as your weekly total approaches your goal. Consider any activity that gets your heart rate up and makes you sweat. Dancing, walking, and even yard work are all good cardiovascular options.
Step 2
Include muscle-strengthening exercises for all of the major muscles in your body at least two times per week. Building more muscle mass is a great way to increase your metabolism and burn more fat. Do weightlifting, resistance band workouts or yoga to build more muscle.
Step 3
Focus on your abs three to five times per week with abdominal exercises. You can work your abs every day if you want. Simple crunches, a stability ball workout, or a Pilates session are all effective ways to work the muscles of your abdomen.
Step 4
Look for ways to sneak more activity into your daily schedule. Wash your car instead of driving through the gas station's machine. Walk around while talking on the phone. Even perform abdominal contractions while you are driving to work. Every calorie you expend helps.
Warning
Do not embark on any new diet or fitness plan without consulting your doctor first.