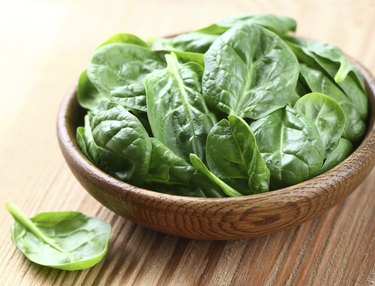 Raw or cooked, hot or cold, spinach has a distinct flavor that's popular in cuisines throughout the world. It's also is fat-free, low in calories and packed with vitamins and minerals. Good seasonings for spinach enhance and complement its flavor without adding a lot of fat or calories, maximizing its health benefits.
Herbs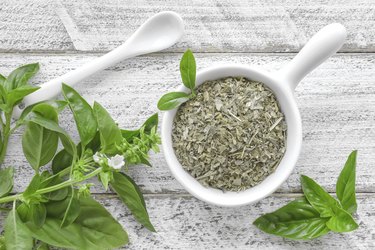 Dried and fresh herbs both work well with spinach. Dried herbs are stronger than fresh, so plan on using about a teaspoon of herbs per pound of frozen spinach. Use as many fresh herbs as you like with fresh spinach to reach your desired taste. Mix thawed, frozen spinach with cheese, eggs, milk and dried herbs, such as marjoram, thyme, sage or oregano, for a quick and easy spinach casserole. Add chopped fresh herbs to wilted or sauteed spinach near the end of cooking to retain their full flavor. Try finely minced parsley, rosemary or basil. Or, add whole leaves of basil to a raw spinach salad for an interesting complementary flavor.
Spices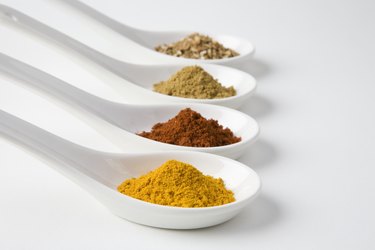 Spinach stands up beautifully to strong curry spices. Saute spinach leaves in a little oil and add spices for your desired flavor profile and strength. Turmeric, cumin, coriander and ginger are traditional curry spices. Casseroles that heavily feature spinach are kicked up a notch with the addition of hot spices. Cayenne pepper, chili powder and crushed red pepper flakes work well with spinach. Braise spinach in beef broth and paprika for a smoky, sweet flavor.
Vinaigrettes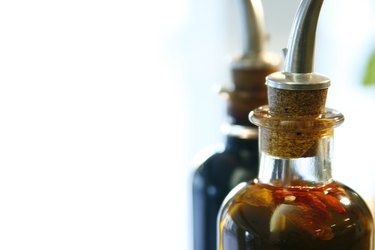 Vinaigrettes go well with both hot and cold spinach. Dress baby spinach leaves with a vinaigrette of heart-healthy olive oil and balsamic vinegar -- and add strawberries for a simple salad. A basic vinaigrette is composed of one part acidic ingredient, such as vinegar, wine or citrus juice, to three parts oil, plus seasonings to taste. Use a lemon vinaigrette to lightly braise fully mature spinach leaves, or toss wilted spinach with sesame oil and lime juice, or with olive oil and sherry.
Liquids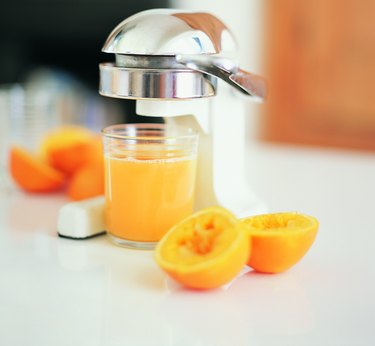 Use liquids to flavor spinach when you don't want the added fat from the oil in a vinaigrette. A sprinkling of orange juice or lemon juice with pepper on wilted spinach adds a sweet kick. Saute spinach in low-sodium soy sauce or teriyaki sauce for Asian flavor. Braise full-size spinach leaves in low-sodium chicken or vegetable broth with fresh herbs and garlic for a flavorful side dish. Add a splash of hot sauce to jazz up any spinach dish.