When talking about the health benefits of exercise, the phrase, "Some is better than none but more is better than some," can be applied. The Centers for Disease Control and Prevention recommends adults engage in a total of 150 minutes a week of moderate intensity activity or a total of 75 minutes per week of vigorous intensity activity to improve health. Running one mile is a step in the right direction for improving your health. Increase your mileage to about two miles per day and enjoy increased health benefits.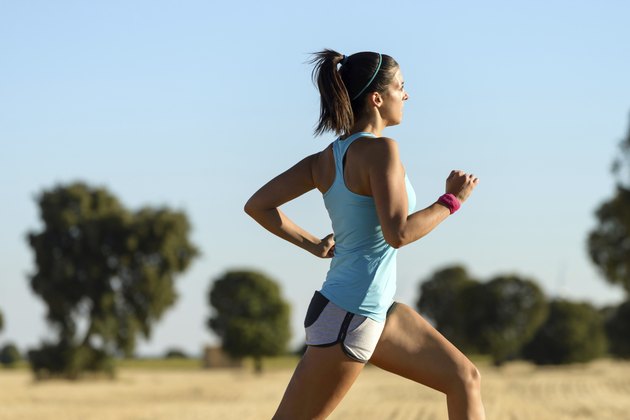 Improve Your Cardiorespiratory Fitness
Running is a vigorous physical activity that significantly increases your heart rate and breathing. The simple act of getting your heart pumping strengthens your heart muscle. While your heart pumps more blood to deliver needed oxygen to your working muscles, your lungs work harder to keep up. This improves your respiratory system, which makes performing everyday tasks, such as climbing stairs and carrying groceries, easier.
Prevent Lifestyle Diseases
Running daily is an effective way to prevent lifestyle diseases. Running lowers blood pressure by strengthening your heart, prevents heart disease and stroke by lowering cholesterol, prevents type 2 diabetes by preventing weight gain and improving insulin sensitivity, and prevents osteoarthritis by lubricating and strengthening joints. Running can also help prevent some types of cancer.
Maintain Your Weight
Each person requires a different amount of exercise to maintain her weight. Running one or two miles per day may help you maintain your weight by burning off extra calories. If you have recently lost a significant amount of weight, or if you consume significantly more calories than you need, you might need up to one hour of physical activity per day to maintain your weight, according to data from The National Weight Control Registry.
Build Strong Bones and Muscles
Running one mile a day can help to improve your bone density and tone your muscles. Running is a weight-bearing exercise, meaning that when your foot hits the ground it places stress on your bones -- and your bones respond to the stress by becoming stronger. Your muscles contract and relax as you put one foot in front of the other which makes them stronger and denser.