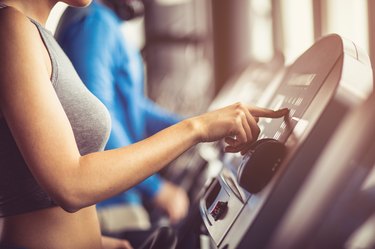 Treadmills are a classic when it comes to getting in your cardio. If you know how to walk, jog or run, you know how to use a treadmill. But doing the same workout on the same equipment day in and day out is no fun, and boredom can cause you to skip your workouts.
Enter the Adaptive Motion Trainer, a cardio fitness machine made by Precor. A combination of an elliptical machine, treadmill and a stepper, it's a highly versatile machine that can replace a treadmill and give you more options in your workout to keep things interesting.
The Equipment
An Adaptive Motion Trainer, or AMT, is similar to an elliptical machine. It has independent foot pedals like an elliptical machine and moving handle bars, so your arms and legs move in sync with one another. It is 80 inches long, 35 inches wide, 73 to 81 inches tall and weighs between 420 to 500 pounds. It has a maximum user capacity of 350 pounds.
A treadmill is a pretty straightforward piece of equipment with a rotating belt that moves at different speeds. The dimensions of a treadmill vary among brands and models, but most are between 65 and 85 inches long and 30 to 40 inches wide. Most treadmills can handle user loads between 250 and 430 pounds.
Movements
You can adjust the stride length and step height on the AMT machine to mimic different movements. The stride length is adjustable from zero to 36 inches and the step height adjusts from 6.8 to 10 inches. Change your leg movements any time during the workout to simulate different activities. A zero stride length with an increased step height mimics a stepping activity. A short stride length mimics walking, a mid-range stride length mimics jogging and a long stride length mimics running.
A treadmill limits you to walking, jogging or running, but you can adjust your stride length as needed. A longer treadmill is more conducive to running and sprinting, while shorter models work well for walking and jogging.
Features
Like most treadmills, an AMT has a console that provides immediate feedback about your workout, including calories burned, heart rate, time and speed. The AMT also offers 20 levels of resistance, which changes the intensity of your workout. The higher the pedal resistance, the more challenging your workout will be.
A treadmill does not offer resistance levels, but most models offer an incline ramp, which also changes the intensity of your workout. The higher the incline is, the more challenging your workout will be.
Low Impact
Like an elliptical machine, when you use an AMT your feet never leave the pedals. This reduces the impact on your joints and muscles. When you run on a treadmill, the impact of your body weight results in considerable stress on your joints, particularly your knees. Lower quality treadmill models will offer less shock absorption, which increases the effects of impact; high-quality treadmills offer more shock absorption.
Choosing a Machine
An AMT may be best suited to those with knee problems or other medical conditions that make high-impact exercise difficult or risky. It's also a good choice if you are easily bored by repetition, as you can switch movements instantly. The treadmill may be best if you're a serious runner and dislike the constraints of foot pedals, or if you prefer a wider stride. If cost is an issue, you can save money by choosing a treadmill over an AMT.