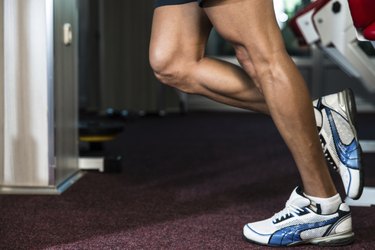 The calf muscle, which is responsible for the plantar flexion of the ankle and bending the knees, is comprised of large muscles that run from the Achilles tendon all the way to the femur. Having strong calves will help you improve your running speed, the height of your jump and general performance. There are several workouts that you can do to build bigger and fuller calf muscles, some of which are resistance-training exercises.
Diet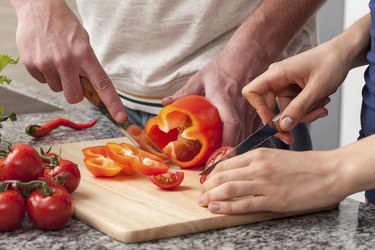 Increasing muscle size in any muscle group requires you to consume a diet high in protein. Protein allows muscles to grow bigger and stronger. For optimal results, eat lean protein such as fish, beans and poultry. Also incorporate plenty of fruits and vegetables, carbohydrates, diary and whole grains into your diet, and avoid as much processed food as possible. Consume 25 grams of protein within 15 minutes after your workouts.
Effectively Stimulating Your Calves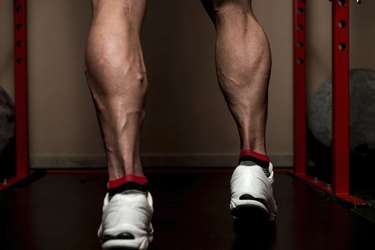 Since the calves are used in most daily activities, and they carry and move the weight of the body, it requires extreme stimulus to make them bigger and fuller. Even though bodybuilders generally exercise a muscle group once per week, the calves are an exception. Exercise them two or three times per week, and use as much weight as you're comfortable with. Perform a full range of motion with every repetition. The muscles of the calf are not ones that can be trained effectively with partial range-of-motion exercises. A partial range of motion will put too much pressure on your achilles tendon and will not target your entire calf. Increase weight progressively every week to shock your muscles and allow them to grow bigger.
Calf Raises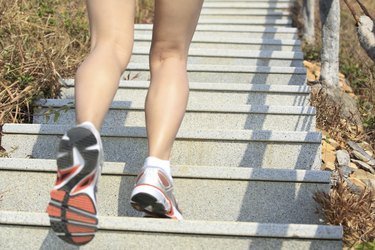 There are many exercises that can increase the size and improve the shape of the calf muscles. One of the most popular, effective and easiest to perform is the calf raise. You can choose to incorporate the standing calf raise into your workout by holding a moderate-weight dumbbell or barbell. Stand on a bench or step, ensuring the balls of your feet are resting on its edge and the heels are hanging off. Flex your calves until the ankles have been fully extended.
Plyometrics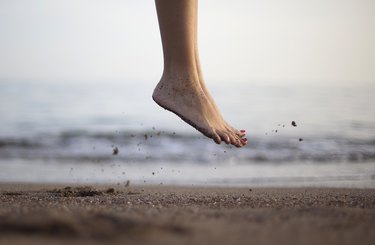 Plyometric exercise is also known as jump training. Because the calf muscles are heavily used for jumps, plyometrics are effective at building calf size, shape, strength and power. Plyometrics also target your core, hips, glutes, quads and hamstrings. Box jumps are a popular and effective plyometric exercise. Stand facing a box with your feet shoulder-width apart. Keeping your knees behind your toes, squat down and jump onto the box. Choose a height that is challenging but allows you to perform eight consecutive reps. Allow both feet to land on the box at once. Carefully step backward off the box with one leg at a time, then repeat. Perform plyometrics exercises twice per week at the end of a weight-training routine.