Jump rope is an inexpensive, portable form of cardiovascular exercise. Jump rope can help burn calories, control your weight and prevent the onset of diseases -- including heart disease, stroke and diabetes. The only downfall of jumping rope is the hard surfaces you jump on can lead to joint pain, especially in the hips, knees and ankles. If you enjoy jumping rope, there are actions you can take to avoid the side effect of joint pain.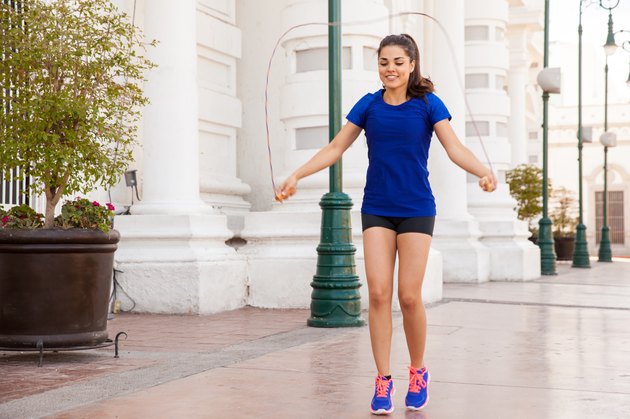 Step 1
Take an over-the-counter pain reliever to help prevent joint pain an hour before you plan to jump rope.
Step 2
Wear shoes with adequate shock absorption. If your shoes become worn or damaged, replace them to prevent joint pain or injury.
Step 3
Talk to your doctor about the use of arch supports. Arch supports can provide additional shock absorption, which can ease knee, hip and ankle pain as you jump rope.
Step 4
Jump rope on a softer surface. Jumping rope on grass, a track or gym with a wood floor is much more forgiving on your joints.
Step 5
Use a trampoline. The bouncy surface of a trampoline allows you to jump higher and is easier on your joints.
Step 6
Cross-train with low-impact cardio exercises. Consider alternating jump rope with activities such as swimming, using an elliptical machine, walking on a treadmill, using a rowing machine or walking on a stair stepper machine. Cross-training can help to prevent overuse injuries and joint pain. Low-impact exercises place minimal stress on your joints as you work out.
Warning
Avoid over-training. If you experience pain while jumping rope, rest. If pain persists for more than a few days, consult a physician.