Your liver contains thousands of enzymes that carry out chemical reactions required for proper metabolism, digestion and to help detoxify your body. Elevated liver enzymes in your bloodstream indicate the presence of liver damage that causes the enzymes to leach from your liver cells into your bloodstream. Over- or under-consuming specific vitamins can damage your liver and lead to elevated liver enzymes.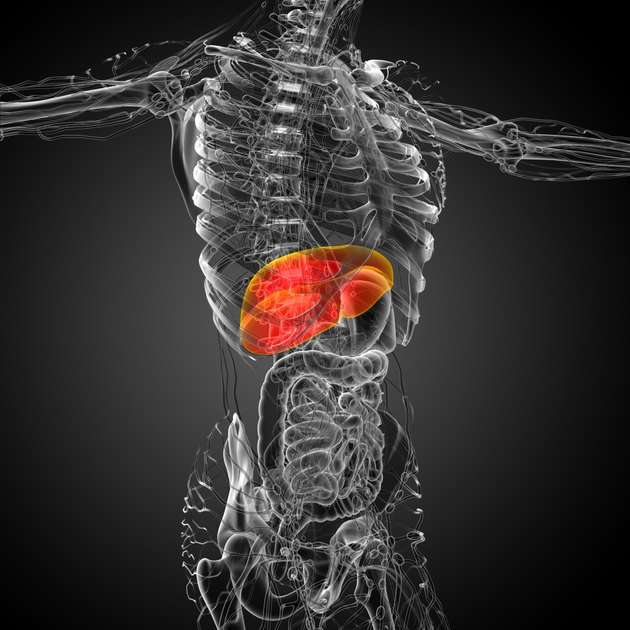 Niacin
Niacin, or vitamin B-3, can cause an elevation in liver enzymes in some cases. High doses of nicotinic acid -- a specific type of niacin used to control blood cholesterol -- can cause side effects, including liver damage, elevated liver enzymes and jaundice. Individuals taking nicotinic acid face difficulty regulating their blood sugar levels, increasing their risk of high blood sugar. If you take nicotinic acid to treat a cardiovascular condition, talk to your doctor about the possible risk of elevated liver enzymes. The recommended dietary allowance for adults is 16 milligrams for men and 14 milligrams for women, and the tolerable upper intake is 35 milligrams, according to the Linus Pauling Institute.
Vitamin A
Taking too much vitamin A might also cause elevated liver enzymes. High vitamin A intake leads to hypervitaminosis A, or vitamin A toxicity. The high vitamin A levels can affect your skin, kidneys and nervous system, causing noticeable symptoms such as skin lesions or headaches. In addition, the toxicity damages your liver tissue, so you display elevated liver enzymes in a blood test. Vitamin A toxicity often occurs due to vitamin supplement overuse, so consult with your doctor before taking supplements that contain vitamin A. The recommended daily intake of vitamin A is 700 micrograms for women and 900 micrograms for men, according to the National Institutes of Health Office of Dietary Supplements.
Choline
In some cases, deficiencies in nutrients can impair liver function and cause elevated liver enzymes. Individuals with a choline deficiency often display an increase in ALT, a specific liver enzyme. In addition, choline deficiency can cause liver cell death, and might therefore have an effect on the levels of other liver enzymes. Those at risk of developing a choline deficiency -- such as vegetarians and vegans -- should consult with their physicians to assess their needs for choline supplementation to prevent elevated liver enzymes. The recommended dietary intake for men is 550 milligrams and 425 for women, with the upper level intake being 3.5 grams, according to the Linus Pauling Institute.
Things to Consider
Elevated liver enzymes and liver damage due to a vitamin overdose or deficiency pose a serious health risk, since liver failure can eventually prove fatal. In many cases, you can avoid a liver-harming vitamin overdose by consuming vitamins from a range of healthy foods, instead of consuming vitamin supplements. If you decide to take vitamin supplements, consult with your doctor to discuss the safety of the vitamins.