Vitamins are often considered to be little units of magic that can do no wrong; however like every other type of nutrient, too much or too little can be a bad thing. Vitamin deficiencies and high doses of certain vitamin supplements that raise liver enzymes are both bad.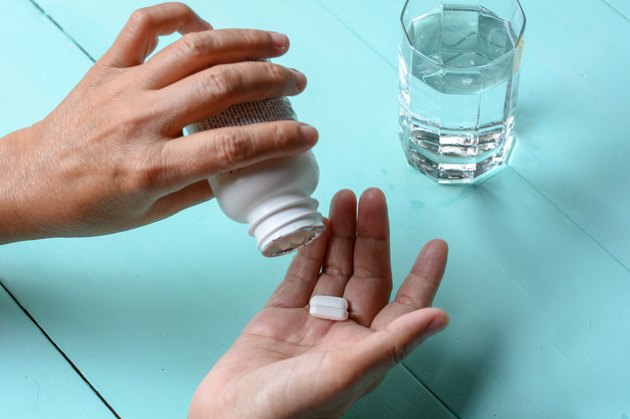 Tip
Vitamins A and B3 are supplements that may raise liver enzymes if taken in high doses. Vitamin deficiencies can also affect the liver.
Wait, What Are Liver Enzymes?
Your liver is the largest organ in your body and the real MVP. It carries out multiple critical functions, like making proteins, breaking down food to produce energy, storing nutrients like vitamins, minerals and sugar, removing bacteria from your blood to help your body fight infections and producing bile, a fluid that helps digest fat and absorb fat-soluble vitamins A, D, E and K.
The liver also acts like a filtration system, filtering out drugs, alcohol, toxins and chemicals from your blood. It then processes the waste so your body can get rid of it via bile or urine.
The liver carries out all these functions with the help of enzymes, which are proteins that speed up the chemical reactions in your body. While there are several types of liver enzymes, the most common ones are alanine transaminase (ALT), aspartate transaminase (AST), alkaline phosphatase (ALP) and gamma-glutamyl transpeptidase (GGT).
Supplements That Raise Liver Enzymes
When the liver is damaged or injured in some way, liver enzymes leak from the liver into your bloodstream. Raised levels of enzymes in your blood are detected in liver function tests and are an indication that the liver is either damaged or not functioning correctly. For example, high levels of the enzymes AST and ALT in your bloodstream are a sign of acute liver damage.
Excess doses of certain vitamin supplements, like Vitamin A and B3, can damage the liver and raise liver enzymes levels. Deficiencies of certain vitamins can also affect your liver. Consult your doctor about your nutritional needs before you start supplementing your diet to prevent liver damage from supplements and make it a point to get tested regularly to ensure that you don't have any nutritional deficiencies.
Vitamin A Supplements
Vitamin A is an essential nutrient for vision, skin and bone health and immunity. The National Institutes of Health (NIH) recommends an intake of 300 to 700 micrograms for children and approximately 700 to 900 micrograms for adults. Milk, eggs, liver and red, orange and yellow fruits and vegetables are good sources of vitamin A, and your daily requirement can easily be met through a normal diet.
Vitamin A is toxic if consumed in high doses, in the vicinity of 12,000 micrograms and above. Known as hypervitaminosis A, or vitamin A poisoning, it occurs because the excess vitamin A, which is fat-soluble, is stored in your liver, where it accumulates and causes liver damage. You could be at risk for hypervitaminosis A if you take vitamin A supplements or if you eat a lot of liver and organ meat.
Acute vitamin A poisoning happens quickly, if you consume over 100 times the recommended amount and its symptoms are severe headache, nausea, vertigo, blurred vision, muscle aches, lack of coordination, skin desquamation and alopecia.
Chronic vitamin A poisoning occurs over a period of time, if you regularly take doses that are around 10 times the recommended amount. Consult your doctor before you take any vitamin A supplements because sometimes it can take months or even years for symptoms of chronic hypervitaminosis A to show. The symptoms include dry skin, gingivitis, muscle and joint pain, fatigue, mental dullness, depression and liver test abnormalities.
Once you stop taking vitamin A supplements your symptoms should improve, but the rate of improvement may depend on how much is stored in your liver. Switching to a low vitamin A diet can help speed up your recovery. Hypervitaminosis A can also be fatal in extreme cases.
Niacin to Treat Cholesterol
Vitamin B3, also known as niacin or nicotinic acid, is essential to health. The recommended dietary allowance of niacin is 14 to 16 milligrams a day for most adults, 18 milligrams for pregnant women and 2 to 12 milligrams for children, according to the NIH. Most multivitamins and vitamin B supplements contain niacin in doses close to the recommended amount and do not pose a threat to your liver.
However, niacin is also prescribed to control cholesterol. High doses of it can lower low density lipoprotein (LDL) cholesterol and raise high density lipoprotein (HDL) cholesterol. Anywhere between 1 to 6 grams of niacin are prescribed per day to treat high cholesterol and improve heart health.
This increased dose of niacin can sometimes cause hepatotoxicity, which is the term used to describe liver damage caused by chemicals. Its symptoms include jaundice, itching, nausea, vomiting and fatigue. Most cases are mild and heal quickly once you stop taking niacin. The symptoms disappear within a few days but it can take weeks or sometimes even months for your enzyme levels to return to normal.
There is also a small chance that the hepatotoxicity is so acute that it results in liver failure, which can be either fatal or require an emergency liver transplant. If you are taking niacin to treat a heart condition, make sure you discuss the risk of elevated liver enzymes with your physician.
Vitamin Deficiencies and Liver Enzymes