Crawling, creeping, gnawing, tugging and tingling are all words used to describe the odd and irritating sensations associated with restless legs syndrome. This condition usually affects the lower legs and calves and may also affect the upper legs or even arms. Restless legs syndrome is not medically dangerous but may be disruptive, especially if it interrupts your sleep. Potassium, iron, vitamin B and other vitamins may be used to treat the condition.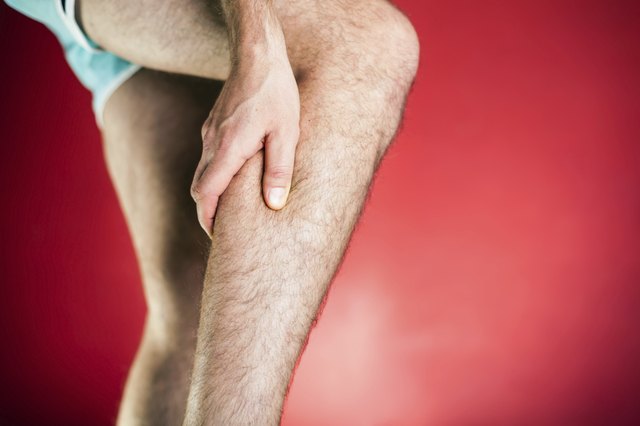 Symptoms
An uncomfortable crawling or tingling sensation in the calves is one of the symptoms of restless legs syndrome. You may feel an uncontrollable urge to move your legs and this motion may relieve the sensations for a short period of time. The symptoms of restless legs syndrome usually worsen when you are resting and become particularly severe at night. Your sleep may be disrupted by jerky limb movements that cause frequent partial awakenings.
Risk Factors
Restless legs syndrome becomes more common with advancing age. Women are affected more often than men. Many women develop restless legs syndrome during pregnancy, especially during the third trimester. In some individuals, the condition is linked with iron deficiency. Medications, including anti-depressants and anti-nausea drugs, may worsen the symptoms of restless leg syndrome.
Potassium
As an electrolyte and essential mineral, potassium is critical for muscle contraction, nervous system function and fluid balance throughout the body. The daily adequate intake of potassium is 4,700mg for adults. Potassium may be prescribed for the treatment of restless legs syndrome but more often other vitamins are recommended. (See Ref 2) Potassium supplements may have serious side effects and may interact with foods or other medications. Do not take potassium unless directed to do so by your doctor. (See Ref 3)
Other Vitamins
Some people with restless legs syndrome experience relief from vitamin or mineral supplements. Before beginning any new supplement, consult your health care provider. Simple blood tests can determine whether you have a deficiency in iron, folic acid, vitamin B complex or magnesium. If your levels of one of these vitamins are low, your doctor can recommend an appropriate supplement. Inform your doctor of any other medications or supplements you are taking.