Constipation can be an uncomfortable or even painful condition for child. It is a common problem, but may cause you and your child distress as you try to alleviate her symptoms. Magnesium citrate is one medication that is often used to treat childhood constipation, but you should speak with your doctor before giving it to your child. This medication can react with other substances, as well as cause dangerous side effects in certain children. Learn more to determine if magnesium citrate may be a potentially effective treatment for your constipated child.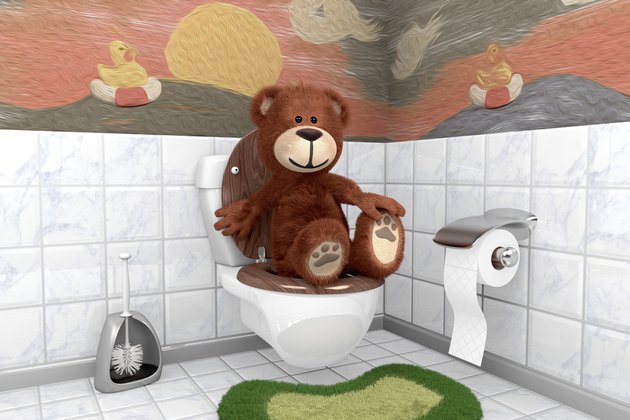 Constipation
The most common cause of childhood constipation is an insufficient amount of fiber or water as part of a healthy diet. If your child eats a large amount of fatty or sugary foods, she is also more likely to become constipated. Ignoring the need to use the restroom can also lead to constipation, and may become worse the longer your child holds her stool in. Your child is constipated if she is passing stool less often than normal, if her stool is hard and dry or if she has difficulty or pain while trying to have a bowel movement.
Magnesium Citrate
Magnesium citrate is used to clean out the gastrointestinal tract, as well as for treating constipation. It works by cleaning out the intestines and softening the stool, which makes it easier for your child to eliminate stool. Magnesium citrate also increases the amount of water in your child's intestinal tract, which may make it easier for her to have a bowel movement. Magnesium is a mineral that aids in muscle contraction, which may also make the medication as an effective treatment for childhood constipation.
Dosing and Usage
Do not give your constipated child magnesium citrate without speaking with her pediatrician first. If your doctor prescribes magnesium citrate, make sure to follow the dosing instructions exactly to help prevent negative side effects. KidsHealth recommends chilling the medication to improve the flavor. You may also combine the medication with juice or water. Store it at room temperature and out of the reach of your child.
Cautions
Magnesium citrate can be dangerous if your child ingests more than the prescribed amount. Do not offer your child double doses. Watch for common side effects, which include gas, diarrhea and belly pain. More serious side effects may indicate an allergy and include rash, difficulty breathing, chest tightness and swelling. Call your child's doctor or an emergency care facility immediately if these symptoms occur. Magnesium citrate may interact with other medications your child takes so be sure to let your child's doctor and pharmacist know what medicines your child takes on a regular basis. If your child has nerve disease, kidney disease or myasthenia gravis, do not give her magnesium citrate without speaking with her doctor first.