Soy milk is produced from the soybean plant. Although not technically milk, soy milk has provided a dairy alternative for many who cannot or choose not to consume animal's milk, such as the lactose intolerant and vegans. Though soy milk provides many potential health benefits -- including a lower risk of heart disease and protection from prostate cancer -- some research suggests it may have negative side effects for men when consumed in large quantities.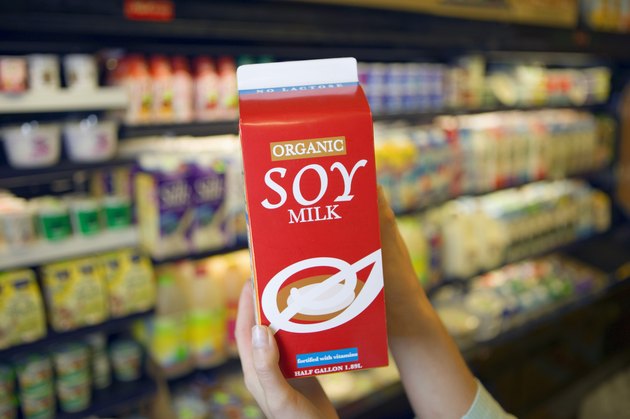 Soy Milk Properties
Soy milk contains isoflavones which provide many of the benefits of soy products. Isoflavones, according to the American Cancer Society, can have weak estrogen-like activity, which is the basis for why some men avoid soy milk. The exact amount of nutrients in soy milk depends on the brand and if the milk is fortified. Regular soy milk does not contain a significant amount of calcium; however, some manufacturers offer a fortified version that contains calcium and other nutrients.
Decreased Sperm Production
A Harvard University cross-sectional study published in "Human Reproduction" found that dietary intake of soy and isoflavones reduced sperm concentration in men. Although the reduction was small, it was considered statistically significant. The research found that including soy in the diet most affected men with normal or high sperm counts. Also, soy food was more related to low sperm in overweight and obese men in the study. Other studies have had conflicting results related to soy milk and sperm production.
Erectile Dysfunction
Some research suggests that large doses of soy may decrease penile function. A certain isoflavone found in soy, daidzein, and its effects on erectile functions were studied in rats. Research published in the "Journal of Andrology" found that consuming daidzein in youth could negatively affect penile functioning into adulthood. Rats that consumed daidzein had softer erections; however, testosterone was not significantly affected. In this study, daidzein did not affect penis size and growth. However, researchers admit that rat studies do not necessarily reflect the same results in humans.
Behavioral Concerns
Soy may negatively affect behaviors in men, according to research published in "Hormones and Behavior." Researchers from Wake Forest University Baptist Medical Center divided adult male monkeys into three groups for the 15-month study. One group had approximately 125 mg of isoflavones from soy daily. The second group had half the amount, and the third group's protein came from milk and animal sources. The monkeys fed the high amount of isoflavones demonstrated more aggressive and submissive behavior than their counterparts. They also spent less time with other monkeys and increased their alone time.