When your heart beats and your muscles contract, that's the work of electrolytes -- particles that conduct an electrical charge -- in your body. Electrolytes are also responsible for the balance of fluids inside and outside your cells, the transportation of nutrients to and from cells, the transmission of nerve impulses, regulation of blood pressure and the function of your glands. If you eat a balanced diet, you probably get all the electrolytes you need; however, circumstances such as exercising for long periods in hot weather or bouts of diarrhea or vomiting may cause you to to become deficient. Knowing what foods and beverages are sources of electrolytes helps you replenish them naturally.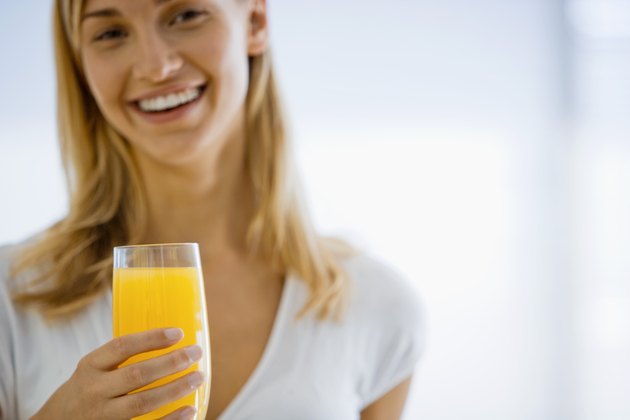 Step 1
Add a pinch of salt to foods, or stir it into a glass of water to replenish the electrolyte mineral sodium. One-half teaspoon of salt contains about 1,000 milligrams of sodium, which is 75 percent of the adequate intake set by the Institute of Medicine. Table salt is also a source of chloride, which is another electrolyte mineral your body needs.
Step 2
Drink milk as a source of calcium. One cup of milk provides 314 milligrams of calcium, which is nearly one-third of the RDA for adults. You can also eat beans, yogurt, sardines, turnip greens and kale as other sources of the mineral.
Step 3
Sip tomato or orange juices as healthy sources of potassium. A glass of orange juice provides almost 500 milligrams of potassium, or a little more than 10 percent of the RDA. Baked potatoes are also a good source of potassium.
Step 4
Snack on almonds, hazelnuts or peanuts as a source of magnesium. One ounce of almonds provides 78 milligrams of magnesium, which is 24 percent of the RDA for women and 19 percent of the RDA for men. Brown rice, oat bran, lima beans and Swiss chard are also rich sources of the mineral.
Step 5
Cook up eggs, beef, chicken or turkey to meet your daily needs for phosphorus. One egg provides 14 percent of the RDA for the mineral. You can also enjoy halibut, salmon and whole wheat bread to get the phosphorus your body needs.
Warning
The American diet is rarely deficient in sodium because it's found in so many processed foods. Consuming too much sodium can result in high blood pressure. Before consuming extra sodium, speak to your doctor about whether you need it.