Electrolytes are substances, usually salts, acids or bases, that contain ions. These ions are electrically conductive and help receive and send messages throughout the body. Electrolytes can be lost by heavy exertion and sweating, vomiting, diarrhea and alcohol, all which can cause dehydration. There are a few things you can do to replenish the body with electrolytes. Sports drinks usually are packed with electrolytes and can be drank before, during or after sports or exercise. Drinking fresh fruit juices is also a good way to replace lost electrolytes. Another way, which is also the most cost effective, is to add a few household ingredients to a glass of water.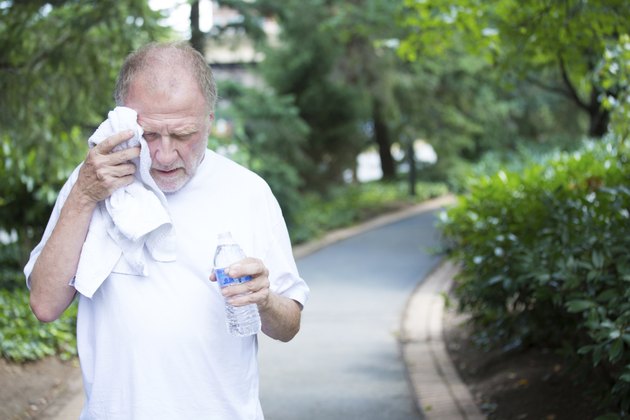 Step 1
Fill a 32-oz. bottle with 16 oz. of water. Distilled water is ideal because it's the closest to pure water, but bringing tap water to a boil in a kettle will provide adequately clean water. Spring water may also be used.
Step 2
Add a dash of salt to the water. A pinch of salt will add sodium to the mix, a necessary electrolyte for keeping the nerves healthy for sending and receiving messages in the body. Baking soda has a similar makeup to salt and may be substituted if desired.
Step 3
Add 16 oz. of fresh citrus juice. The citrus family of fruit contain calcium and potassium, which combined with salt provides a balance for pH and fluid levels in the body. Lemon, lime, tangerine, grapefruit and orange juice all have the necessary minerals for electrolyte replenishment.
Step 4
Add a half teaspoon of honey to the drink. Honey will provide glucose and help for better absorption of minerals within the body, while bringing a pleasant taste to the drink.
Step 5
Put the cap on the bottle and shake well. Drink the mixture after heavy physical exertion, after an illness or in high temperatures.
Things You'll Need
32 ounce bottle

Salt or baking soda

Citrus juice

Honey