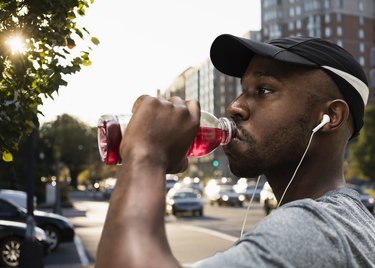 As temperatures rise and your sweat sessions get even sweatier, you may find yourself reaching for a sports drink that promises to hydrate you faster and more efficiently than plain old H2O.
While sports drinks can be helpful (and, in some cases, necessary), not all products are created equally. That's why it's important to take into account factors such as the duration and intensity of your workouts, how much you sweat, when and where you plan to exercise and what ingredients the drink contains.
To help you find the best sports drink that works for you and your needs, we chatted with a handful of registered dietitians (RDs) and sports professionals. We chose our top picks based on their recommendations and criteria. You can learn more about how we cover products here.
Electrolytes
Vitamins
Sugar content
Price
Flavor options
Convenience
Activity level
1. Best Overall: Liquid IV Hydration Multiplier
‌Calories: ‌40
‌Sodium: ‌500 mg
‌Carbohydrates: ‌11 g
‌Sugar: ‌10 g
‌Potassium: ‌370 mg
‌Magnesium: ‌0 mg
‌Calcium: ‌0 mg
Pros
Convenient, individually-packaged servings
Extensive flavor options
Contains vitamins B3, B5, B6, B12 and C
Cons
May be too high in sugar for some
More expensive than other powders and tablets
Doesn't contain magnesium or calcium
More than one RD we spoke with included Liquid IV's Hydration Multiplier among their top picks. Formulated to dissolve in 16 ounces of water, the electrolyte drink powder comes in single-serving pouches and is available in nearly a dozen flavors, including watermelon, piña colada and guava.
At 500 mg, Liquid IV's sodium count is higher than the average sports drink, which is ideal for athletes and heavy sweaters. Jackie Kaminski, RD, CISSN, certified sports nutritionist and owner and CEO of The Fight Nutritionist, uses Liquid IV with almost all of her clients.
"For me, it has the perfect blend of electrolytes and other key vitamins to enhance rapid absorption of fluid. Plus, I like all the natural ingredients they use compared to other brands," she says, noting that she's experienced bloating and gastrointestinal distress after using other hydration products that include artificial flavorings and sweeteners. "This is also a complaint I've received about electrolytes in general from clients, but not with Liquid IV."
Liquid IV includes 10 grams of sugar per serving, which can help fuel athletic performance and recovery. But if you don't need or want the extra sugar, you may want to consider other options.
2. Best With Caffeine: Raspberry Limeade Skratch Labs Hydration Sport Drink Mix
‌Calories: ‌80
‌Sodium: ‌380 mg
‌Carbohydrates: ‌20 g
‌Sugar: ‌18 g
‌Potassium: ‌38 mg
‌Magnesium: ‌38 mg
‌Calcium: ‌43 mg
Pros
Available in multiple flavors, with or without caffeine
Sweetened with fruit juice and natural sugars
Caffeine derived from natural coffee berry
A cup of coffee isn't particularly appealing after a long, sweaty workout, nor is it all that hydrating. For that early morning, post-training pick-me-up, you're better off chugging electrolyte drinks that also contain caffeine.
Skratch Labs Raspberry Limeade Hydration Sport Drink Mix contains 50 grams of caffeine derived from natural coffee berry. That's a little less than your typical cup of joe, which averages between 80 and 100 grams.
Scratch Labs Hydration Sport Drink Mix (which is also available in non-caffeinated and high-sodium flavors) is higher in sugar than some other products, making it more appropriate for people who need quick-converting energy for performance and recovery than those looking for hydration without the added sugar.
Marie Spano, RD, CSSD, a board-certified specialist in sports dietetics, uses Skratch Labs products when working with endurance athletes. "It contains more sodium than typical sports drinks and a mix of sugars for fast digestion," she says.
3. Best High in Sodium: LMNT Zero-Sugar Electrolytes
‌Calories: ‌10
‌Sodium: ‌1,000 mg
‌Carbohydrates: ‌2 g
‌Sugar: ‌0 g
‌Potassium: ‌200 mg
‌Magnesium: ‌60 mg
‌Calcium: ‌0 mg
Pros
Contains no sugar and is low in carbohydrates and calories
High-sodium formula is ideal for salty sweaters
Available in multiple flavors
Convenient single-serving packets
Cons
More expensive than some other powders and tablets
Flavors may be too salty for some palettes
"Sweat sodium losses vary tremendously between people. Some people lose a relatively small amount of sodium per volume of sweat while others lose a ton of sodium per volume of sweat," Spano explains. "Popular sports drinks are generally adequate for an athlete who is not sweating a ton. However, anyone who loses a significant amount of sodium per volume of sweat and is sweating a lot will benefit from consuming higher amounts of sodium while exercising."
If you need a high-sodium drink with electrolytes, LMNT Zero-Sugar Electrolytes is a solid option. Each packet contains 1,000 mg of sodium. The mix is low in calories and carbs and contains no sugar, so it's ideal for athletes who prefer to separate their fueling and hydration needs.
Joanna Gregg, RD, food data curator for MyFitnessPal, recommends LMNT for athletes participating in prolonged exercise, noting that it should be consumed with post-workout protein and carbohydrates.
4. Best for Endurance Athletes: Tailwind Endurance Fuel
‌Calories: ‌100
‌Sodium: ‌310 mg
‌Carbohydrates: ‌25 g
‌Sugar: ‌25 g
‌Potassium: ‌90 mg
‌Magnesium: ‌12 mg
‌Calcium: ‌27 mg
Pros
Higher calorie, sugar and carbohydrate count is ideal for endurance activities
Available in powder and single-serving packets
Variety of flavors, including caffeinated options
Cons
Higher calorie, sugar and carbohydrate count may not work for some users
Sodium level may be too low for endurance athletes who are also heavy or salty sweaters
Individual packets are more expensive than some comparable single-serving products
Spano's other top pick for endurance athletes is Tailwind Endurance Fuel. In addition to sodium and other electrolytes, each serving contains 100 calories, 25 grams of carbohydrates and 25 grams of sugar. So, athletes participating in sustained physical activity for long periods of time, like marathon runners or long-distance cyclists, can use it for fueling purposes, too. However, if your sweat typically contains a high concentration of salt, you may need more than the included 310 mg of sodium per serving.
Tailwind Endurance Fuel is sold as a bulk powder and in convenient, single-serving packets. It's available in multiple flavors, including "naked," which is tasteless, and four caffeinated flavors — matcha, raspberry, tropical and cola — that contain 35 mg of caffeine per serving.
5. Best Tasting: Lemon Lime GU Hydration Drink Tabs
‌Calories: ‌10
‌Sodium: ‌320 mg
‌Carbohydrates: ‌3 g
‌Sugar: ‌1 g
‌Potassium: ‌55 mg
‌Magnesium: ‌0 mg
‌Calcium: ‌0 mg
Pros
Convenient tablet form
Available in multiple flavors, with or without caffeine
Low in sugar
Affordable and easy to find
Cons
Doesn't contain magnesium or calcium
Tablets can be slow to dissolve
Taste is subjective, so picking just one hydration drink that everyone finds palatable is a bit of a fool's errand. But citrus is a classic, time-tested flavor that's always refreshing, and we have it on good authority that GU nails it with their Hydration Drink Tabs in lemon lime.
Each tab contains 320 mg of sodium, enough salt to be effective but not so much that it tastes like you're chugging ocean water. And if you're curious about some of GU's other popular flavors, including orange, tri-berry, and strawberry lemonade, the company sells a variety box that contains a tube of each.
6. Best for Traveling: Nuun Sport Tablets
‌Calories:‌ 15
‌Sodium: ‌300 mg
‌Carbohydrates: ‌4 g
‌Sugar:‌ 1 g
‌Potassium: ‌150 mg
‌Magnesium: ‌25 mg
‌Calcium: ‌13 mg
Pros
Travel-friendly tube packaging
Extensive flavor options
Low in sugar, calories, and carbohydrates
Cons
Sodium content may be too low for heavy or salty sweaters
Tablets can be slow to dissolve
When you're traveling, a hydration drink's delivery system is almost as important as its ingredients. Nuun's single-serving, dissolvable tablets are packaged in a small but formidable plastic tube that can be tossed in a purse or squeezed into a duffle bag without the risk of a torn package or the mess of a scoop and canister. And besides being available online, Nuun can be purchased in most pharmacies and grocery stores nationwide, so it's easy to re-stock when you're on the road.
Amy Shapiro, RD, CDN, founder of Real Nutrition NYC, notes that she personally travels with Nuun Sport Tablets, and Gregg includes them among her recommendations for people performing low-to-moderate-intensity exercise. For athletes who need more sodium and a higher calorie and carbohydrate count, Nuun offers an endurance formula, which is available in single-serving sachets.
7. Best Ready-to-Drink: Gatorlyte Rapid Rehydration
‌Calories: ‌50
‌Sodium: ‌490 mg
‌Carbohydrates: ‌14 g
‌Sugar: ‌12 g
‌Potassium: ‌350 mg
‌Magnesium: ‌105 mg
‌Calcium: ‌120 mg
Pros
Convenient, pre-mixed formula
Affordable and widely available
Less sugar and fewer calories than most popular, ready-to-drink hydration beverages
Higher sodium levels than regular Gatorade
Cons
Still high in sugar
Gatorade devotees may not like the taste
Despite its ubiquity, Gatorade is often dismissed by athletes and sports nutrition pros due to its relatively low level of sodium and high sugar content. But Gatorlyte (available by the bottle at Target, Walmart and your average grocery store) tweaks the traditional formula by upping the sodium to 490 mg per serving and cutting calories, sugar and carbohydrates.
"[Gatorlyte] is great for keeping stores of electrolytes on track at a lower level of fluid loss," Gregg says. "It also has a lower sugar content than some of the traditional sports drinks." For example, one 28-ounce bottle of Gatorade Thirst Quencher contains 48 g of sugar, while a 20-ounce bottle of Gatorlyte contains just 12 grams of sugar.
However, those 12 grams of sugar may still be too much for anyone monitoring their sugar intake — but it may not be enough for people who have grown accustomed to the sugar-forward flavor of regular Gatorade and similar products. (Some online reviewers complained about Gatorlyte's taste, noting an overwhelming saltiness.)
What to Look for in a Sports Drink
Before you pop a tab or reach for that scoop of drink mix, read the nutrition label carefully and consider the following factors.
"When we sweat, we not only lose water, we also lose sodium in the highest concentration. We also lose potassium, calcium, magnesium and a few other trace minerals in small amounts," Gregg says. These electrolytes are critical, as they play an important role in maintaining blood pressure, regulating heart contractions and ensuring proper nerve function and hormone regulation.
Shapiro explains that magnesium, potassium and calcium tend to stay in balance with a healthy diet. "Sodium is the main electrolyte we need to refuel," she says. But just how much you need depends on multiple variables, including your diet, how much you sweat, your sweat's salt concentration, how long and hard you exercise and certain health conditions.
Finding the right formula for your needs may take some experimenting, but Gregg has some general guidelines. "If you're looking to just replace electrolytes lost through activities of daily living or light exercise, the lower sodium content of around 100 to 400 mg per serving will suffice," she says. "For prolonged exercise, you should grab a sports drink or electrolyte replacement with closer to 500 to 800 mg of sodium per serving."
2. Calories, Sugar and Carbohydrates
It's also a good idea to check labels for calories, sugar and carbohydrates. These can help fuel long workouts and aid in recovery. But, if you're not an endurance athlete or you're already consuming enough calories and carbohydrates to cover your energy needs, extra sugar and carbohydrates may be unnecessary and work against your weight-loss or weight-maintenance goals.
3. Artificial Flavors and Sweeteners
Artificial flavors and sweeteners, like sucralose and aspartame, are sometimes added to sports drinks to enhance their taste without upping the calorie count. Technically, these ingredients are considered safe for consumption, but some people find that they cause bloating and other gastrointestinal issues (not something you want to deal with mid-workout). Most of the dietitians we talked to recommended avoiding them when possible.
4. How, When and Where You Plan to Hydrate
Whether you need a scoopable powder, a dissolvable tab, individual packets or a ready-to-drink beverage depends on your personal preferences and how you plan to consume your drink. For example, a canister of powder may be convenient for someone who primarily works out in their home gym and can mix their drink from the comfort of their kitchen. But, if you're hydrating on the go, a tube of tablets or individual packets may be more convenient.
When You Should (and Shouldn't) Use Sports Drinks to Hydrate
The best hydration drinks work with your workout routine. For most people who are going about their everyday activities, including periods of moderate exercise lasting under 60 minutes, regular water is sufficient for hydration. "Athletes or avid exercisers aren't the only ones who need electrolytes. However, if you are eating a well-balanced diet, you are probably getting enough of these electrolytes in your food consumption," Gregg says.
But there are some instances in which downing an electrolyte drink will help you recover more quickly. Consider opting for one of the above picks when:
You've exercised at a high intensity for over an hour.
You're training in a very hot or humid climate and are sweating excessively.
Your sweat has high concentrations of sodium. (You may feel or see salt crystals on your skin post-workout or notice that the sweat marks on your gear leave a whitish hue.)
You feel depleted. "A good way to know if you need electrolytes after exercise is to check in on how you're feeling. If you're lightheaded, tired or extra sweaty, consider electrolyte replacement," Gregg says.
You've got a bug. "When you're sick, electrolytes are important, especially if you're vomiting or have bad diarrhea," Kaminski says. "You not only lose a lot of fluid but also electrolytes with these conditions."