Bupropion is a prescription antidepressant medication available as the brand Wellbutrin. In contrast, 5-hydroxytryptophan is an over-the-counter supplement used for a variety of health conditions, including for relieving depression. Known as 5-HTP, the supplement raises serotonin levels in the brain. This has the potential to cause negative reactions if 5-HTP is combined with certain antidepressant drugs. Consult your doctor before taking 5-HTP supplements if you take Wellbutrin or any other antidepressant medication.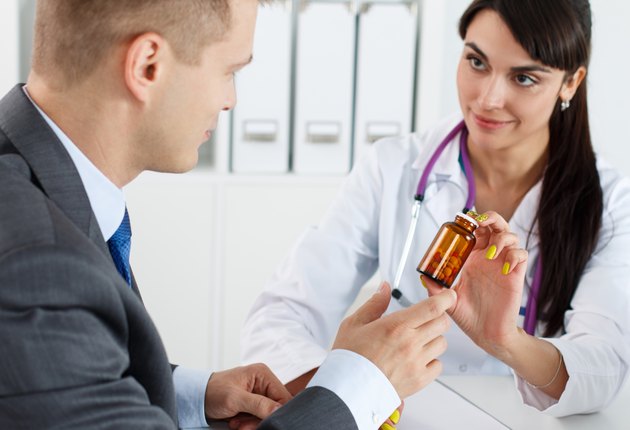 Uses
Doctors prescribe Wellbutrin to alleviate symptoms of depression in people with moderate to severe depression, bipolar disorder and seasonal affective disorder. It also is helpful for some individuals with attention deficit hyperactivity disorder. The supplement 5-HTP may be about as effective as some prescription drugs for relieving depression, says MedlinePlus, a service of the U.S. National Library of Medicine.
Serotonin Syndrome
Combining 5-HTP with certain antidepressants may cause serotonin levels and activity to become too high. This condition, known as serotonin syndrome, has serious symptoms and can become life-threatening. Examples of antidepressants that interact in this manner with 5-HTP are selective serotonin reuptake inhibitors, known as SSRIs, and monoamine oxidase inhibitors. Wellbutrin, however, does not inhibit monoamine oxidase or the reuptake of serotonin and has only mild effects on serotonin activity. In fact, its antidepressant mechanism is unknown, according to DailyMed, another website from the U.S. National Library of Medicine. Nevertheless, Wellbutrin may cause problems with 5-HTP as well.
Case Study
An article published in the September-October 2004 issue of "Clinical Neuropharmacology" describes a case study in which a woman taking bupropion and the SSRI sertraline developed serotonin syndrome. Before this, no cases connecting bupropion with the syndrome had been reported in medical literature, according to the authors. The woman experienced jerking of her arms, clumsiness, confusion, forgetfulness, agitation and lethargy. Her symptoms dissipated after doctors changed her medication.
Considerations
Drugs.com does not list an interaction between Wellbutrin and 5-HTP. To be on the safe side, ask your doctor about the safety of combining Wellbutrin and 5-HTP or any other supplements. Wellbutrin interacts with over 600 medications and supplements, according to Drugs.com.