When you have limited access to weight training equipment, your body provides a reliable workout tool. Your muscles respond with strength to an increase in work load whether the resistance comes from weights or from your body weight. Calisthenic exercises strengthen all of the muscles in your body when you allow for adequate recovery between sessions.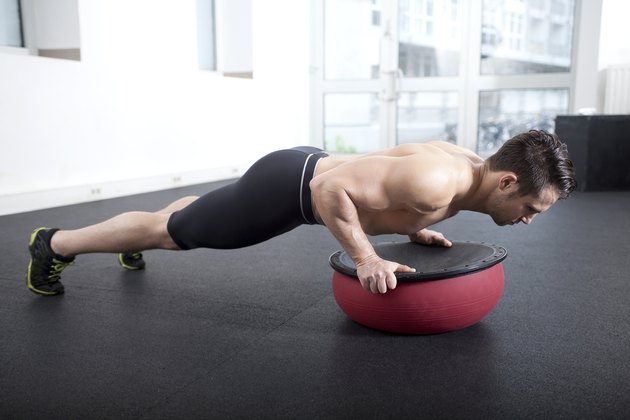 Benefits
Calisthenic exercises are also known as body weight exercises. These movements do not require any equipment. Calisthenics are not only for those new to fitness training, but are also used by advanced athletes. Calisthenics provide a change in workout routine from the repetitive nature of free weights or weight machines. There is no need to give up your weights, though -- add calisthenics to your routine to provide exercise variety.
Muscle Failure
The length of time for muscle recovery between workouts depends on how hard you exercise. If your calisthenic exercises are challenging and you push your muscles to failure, you will need up to two days between workouts. If your calisthenic exercises are easy and you do not reach the point of muscle failure, only slight fatigue, you will need one day between workouts. If you are an experienced fitness participant, expect to perform your calisthenic routine every other day or every two days. If you are a beginning fitness participant, perform your calisthenic workout every three days.
Exercises
Other than fitness level, muscle recruitment also affects the amount of recovery time between workouts. Large muscle groups such as your legs involved with calisthenic squats and lunges require more recovery time than leg exercises such as calf raises. The same is true for upper body calisthenic exercises such as pushups, which recruit many muscle fibers and more recovery than tricep dips. Other exercises such as situps need less recovery time than pullups. Situps rarely induce abdominal muscle failure, but pullups almost always work your upper body to failure.
Intensity
If your goal is muscle failure and your calisthenic exercises are not providing the necessary challenge, increase the intensity of the exercise. Instead of performing calisthenics using both your right and left limbs, separate the exercise into a single-sided movement. For example, perform a single leg squat instead of a traditional squat. Or perform a one-armed pushup instead of a pushup using both arms. Another way to increase the intensity is to change the angle of your exercises. Instead of performing a pushup with hands and feet on the floor, raise your feet onto a couch or bed.