Blisters range from nuisances to quite painful. When they form between your toes from running, blisters can easily interfere with your aerobic exercise routine or sports practices and competitions. Such blisters are prone to continuous irritation, even if you stop running while they heal. Effective prevention techniques are your best bet for sparing yourself from the discomfort.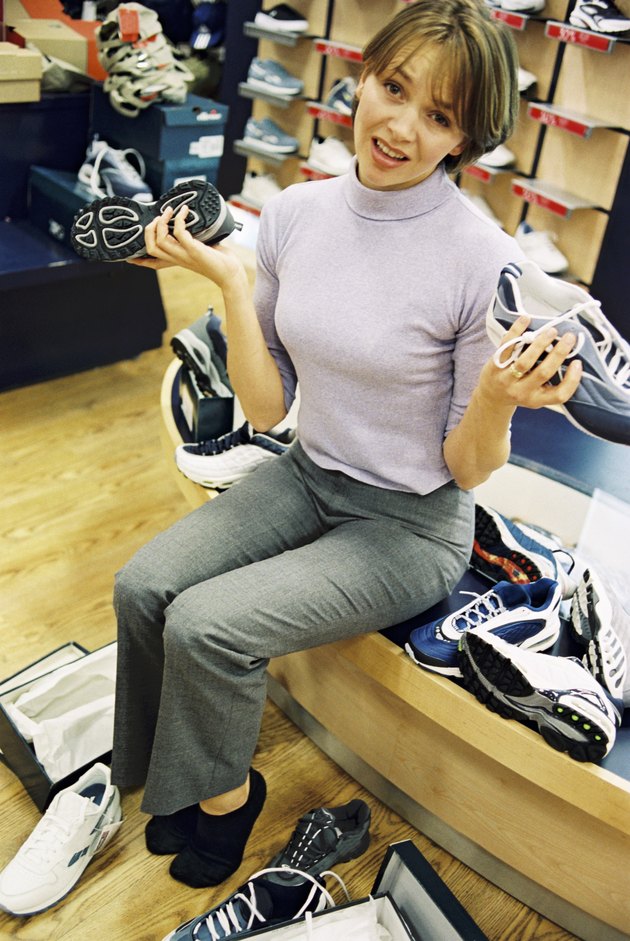 Causes
Blister are a reaction to continuous pressure or friction. They're like calluses, but blisters form more quickly, often in just a few hours. The top layer of skin, the epidermis, separates from the layer beneath, the dermis. Clear fluid builds up between the layers. If a blood vessel is damaged, blood pools between the layer as well, forming a blood blister. Blisters between your toes from running are likely because of shoes that are too tight that constrict the toes and create friction. If your feet sweat during runs, the dampness is probably a contributing factor.
Treatment
If you leave them alone, blisters heal on their own in a few days. But blisters between your toes may be painful and irritated on an ongoing basis just from walking, inhibiting the natural healing process. If the blisters don't appear to be healing or if they cause discomfort or interfere with activities, drain them. Sterilize the area and a needle with rubbing alcohol. Carefully push the needle through just the top layer of skin, right at the edge of the blister. Let the fluid drain, dab on a topical antibiotic and cover the area with a bandage.
Prevention
The most effective way to prevent blisters on your toes is properly fitting running shoes. There should be enough space around your toes that they aren't forced together tightly -- you should be able to wiggle them a bit. Try the shoes on with the same socks you wear when you run. Bandages or small pieces of gauze between toes that are prone to blistering can also prevent blister formation. Apply a liberal dousing of baby powder to your feet before running if your feet get sweaty.
Warning
When you pop and drain blisters or when they are subjected to continual pressure or friction, they can become infected. An infection makes an otherwise harmless skin injury dangerous if left unchecked. Monitor the blisters and the skin around them for any indication of infection. Signs commonly include redness, warmth, swelling, increasing pain or a discharge. See your doctor promptly for treatment if you notice symptoms of infection; antibiotics are prescribed for treatment.