Whether you have stomach pain, indigestion, cramping or abdominal distension, these problems can ruin your quality of life. Stomach problems are also sometimes accompanied with bowel movement changes, including diarrhea, constipation or both. Many different types of carbohydrates present in your diet could be responsible for your symptoms. Keep a food journal to identify patterns before the different carbohydrate-containing foods in your diet and your stomach problems. Consult a registered dietitian with experience in gastrointestinal health for designing a diet that is suitable to meet your nutritional requirements and allow you to avoid stomach problems.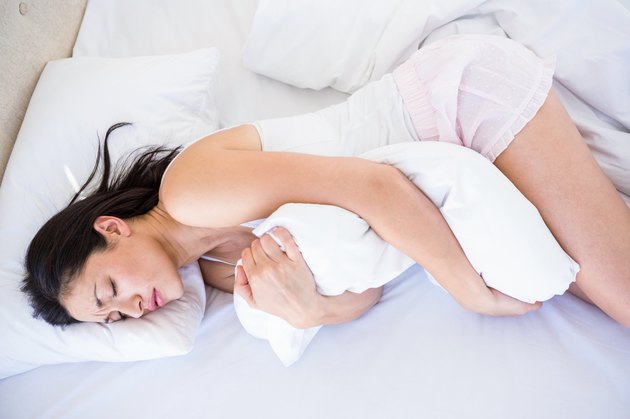 Gluten-Containing Grains
The prevalence of celiac disease is on the rise. The Celiac Sprue Association estimates that for every three Americans that know they have celiac disease, 97 Americans have yet to be diagnosed. Gluten intolerance, which is different than celiac disease, affects even more Americans. Both celiac disease and gluten intolerance can manifest with stomach problems. Gluten is mainly found in carbohydrate-containing foods made with wheat, barley, rye and most oats. Ask your doctor to be tested.
Fructan
Fructans are a type of short-chain carbohydrate found in many foods rich in carbohydrates. Fructans can trigger stomach problems in sensitive people. The largest source of fructans in the American diet is wheat-based foods, such as bread, pasta, couscous, buns, pizza dough, crackers, cookies and baked goods. Fructans are also found in foods enriched with inulin, chicory root or Jerusalem artichoke, often labeled as containing prebiotics. Avoid these products if you are sensitive to fructans.
Fructose
Fructose malabsorption is a condition that can cause stomach problems, such as diarrhea, constipation, abdominal pain, bloating and flatulence. Fructose is a carbohydrate, and if you cannot absorb it well, it can be fermented in your intestines causing unpleasant symptoms. High concentrations of fructose are found in foods sweetened with honey, agave syrup and high-fructose corn syrup, as well as in mangoes, asparagus and watermelon.
Polyols
Polyols, or sugar alcohols, can be added to foods labeled as sugar-free or as containing no added sugars. For people with sensitive stomachs, these carbohydrates can trigger stomach problems. Avoid foods containing isomalt as well as ingredients ending in -ol, such as sorbitol, maltitol, mannitol and xylitol, which can be found in sugar-free ice cream, sugar-free gums and sugar-free candies. These sugars also occur naturally in avocado, sweet potato, apples, pears and peaches.
Galactans
Galactans, a carbohydrate, are found in legumes, such as beans, lentils and soy. Galactans are poorly absorbed in humans and can cause stomach problems. Avoid legumes if you have a sensitive stomach to prevent cramping, bloating and changes in your bowel movements.
Lactose
Lactose is a carbohydrate that can be responsible for your stomach problems. If you lack the enzyme required to break down this sugar, it will ferment in your gut and cause unpleasant gastrointestinal symptoms. Limit or avoid your consumption of lactose-rich foods, such as milk, fresh cheese, yogurt and ice cream if you suspect you are lactose intolerant.
Is This an Emergency?
If you are experiencing serious medical symptoms, seek emergency treatment immediately.