Eating before or after exercise to maximize your calorie and fat burn is a controversial topic. Some evidence points to exercising on an empty stomach to increase fat burn. However, recent research has shown that whether you exercise before or after eating, you burn the same amount of fat and calories. The general consensus among health professionals, is to eat before exercising to maximize the effectiveness of your workout and to avoid negative affects.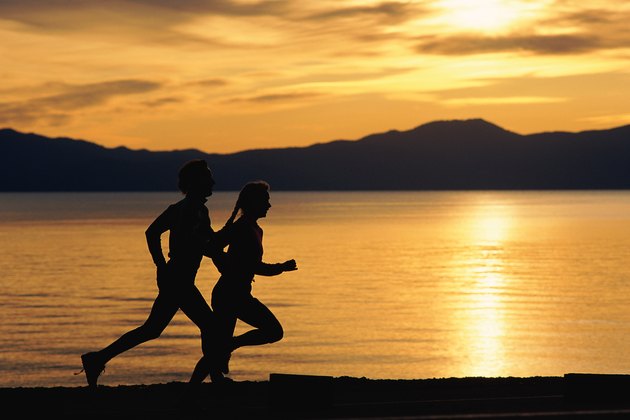 Calorie Burn
In 2011 the "Strength and Conditioning Journal" published a report concerning the calorie burn of exercise before or after eating. Researchers reviewing the evidence concluded that whether you exercise before of after eating does not matter. Fat and calorie burn are roughly the same in either circumstance.
Effects
Proponents of exercising on an empty stomach state that without glucose inside the blood for energy use, the body turns more quickly to fat. However, there are concerns that come with exercising before eating. For example, rather than emphasizing fat, the body will turn to using lean body mass as fuel. This is counterproductive to exercise in general because it means your body is using precious muscle as fuel. Exercising before a meal also may be risky for some, specifically diabetics, because of the likelihood of hypoglycemia. Low blood glucose can be a dangerous situation and may be avoided by eating before exercise.
Benefits
Eating before exercise can offer some added benefits to your workout. For one, you may be able to work out for a longer period of time after eating. A study published in 1999 in the "Journal of Medicine and Science in Sports and Exercise" monitored the endurance of exercisers after eating and without eating. When the exercisers consumed a 400 calorie breakfast three hours before exercise, they were able to exercise 30 minutes longer than when they did not eat.
Another study found that when individuals eat before they exercise, the total food consumption for a day is reduced. This study, published in the "International Journal of Sports Nutrition and Exercise Metabolism" in 2002, split women into four groups: exercise with a beverage containing 45 g of carbohydrates, exercise only, carbohydrate ingestion only or no carbohydrates and no exercise. After the exercise period, the women were offered a buffet where food intake was tracked. The women also were asked to keep a food journal for the rest of the day. The exercisers that took in 45 g of carbs before exercise ate less food the rest of the day when compared to the other subjects.
How To
Plan your meals around when you want to exercise. If you eat a large meal before exercise, wait at least three hours before a workout. If you plan on eating a small meal wait two to three hours before exercise. Your best bet is to eat a snack about an hour before exercise. Healthy snacks include a combination of carbohydrates and protein, such as granola with nuts or yogurt.