Even though you can't see them, electrolytes-- minerals that carry electrical changes-- continually move across cell membranes to maintain a balance between your cells and your blood. Electrolytes in your body include bicarbonate, calcium, chloride, sodium, magnesium, phosphate and potassium. If your electrolytes become unbalanced, symptoms can include tingling in your hands, which is also known as parasthesias. Your doctor can diagnose electrolyte imbalances through blood tests.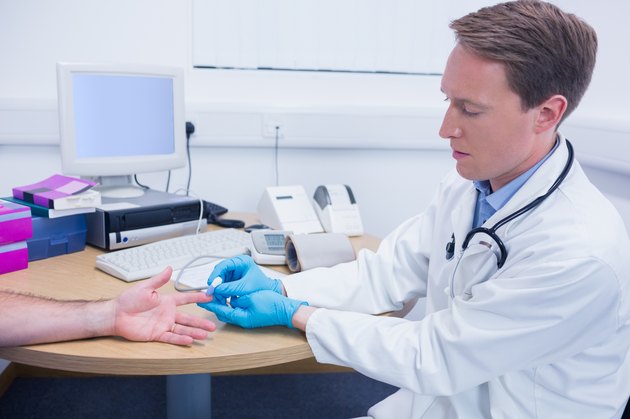 High Potassium
If you have too much potassium in your blood, you have hyperkalemia, which can cause tingling in the hands. Hyperkalemia is normally caused by kidney disease, medications such as diuretics or beta-blockers, or trauma such as a severe burn, crush injury or heart attack. Other symptoms of high potassium include an irregular heartbeat, weakness, difficulty breathing, nausea, diarrhea and vomiting.
Low Sodium
Low sodium, or hyponatremia, constitutes one of the most common electrolyte imbalances, affecting as many as 18 percent of all nursing home residents, according to the Gale Encyclopedia of Medicine. Dehydration can cause low sodium levels. Tingling in the extremities normally begins when a person has lost 5 to 6 percent of their total body fluid, the Rehydration Project website explains. Other symptoms include grogginess, headache, swelling, seizures, muscle weakness and paralysis.
Low Magnesium
Low magnesium levels can cause tingling, muscle cramps, seizures and irregular heartbeats. Between 30 to 60 percent of alcoholics have low magnesium levels, according to the Office of Dietary Supplements. Poorly controlled diabetes and chronic malabsorptive diseases, such as Crohn's disease, can also cause hypomagnesia. Diuretics and some anti-cancer drugs, such as cisplatin, and antibiotics such as gentamicin and amphotericin can cause low magnesium.
Low Calcium
Kidney disease, vitamin D deficiency, cancer, parathyroid disease and laxative use can cause low calcium levels. Like other electrolyte imbalances that cause tingling in the hands, fingers and feet, low calcium levels can also cause muscle spasms, confusion, seizures and cardiac arrest.
High Phosphate
High levels of phosphate, an electrolyte that helps regulate acid-base balance as well as calcium levels, can also cause tingling in the hands. Medically termed hyperphosphatemia, high phosphate levels can be caused by kidney disease, hemodialysis, skeletal disorders, diabetic ketoacidosis or systemic infection. Other potential symptoms include muscles spasms, seizures or cardiac arrest.