Push-ups are often overlooked by advanced trainers for being too easy, while those new to training sometimes avoid them as they believe them to be too difficult. The reality is somewhere in the middle. A set of 10 push-ups may be easy if you've been training a long time, but if you've never lifted a weight before, you might not be able to perform a single push-up. The key to getting better at push-ups is to practice them frequently, but avoid overtraining.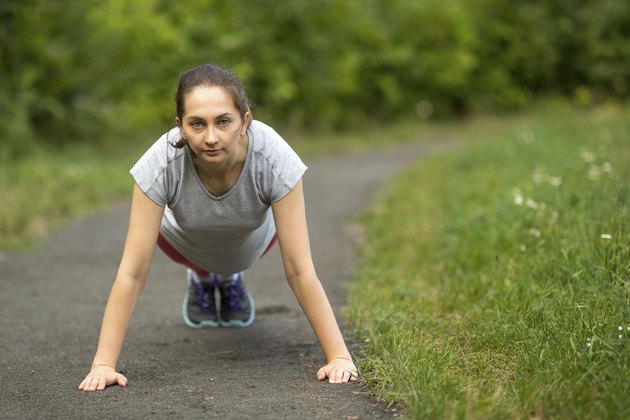 The 48-Hour Rule
When you perform push-ups, the muscles that are working -- your chest, triceps, shoulders and core -- break down. This is a natural process and necessary for strength and muscle increases, but it does mean performance will be compromised if you perform push-ups again too soon. The American College of Sports Medicine advises waiting at least 48 hours after working a muscle group until you hit it again.
Disregarding Rest
Training push-ups more frequently than every 48 hours may not seem like the wisest idea, but it could be possible to train more often and still see results. How often you train depends on a number of factors, including your training volume, intensity, nutrition and the type of training you do, notes personal trainer Nick Nilsson. If you're training your push-ups to failure every time -- the point at which you physically can't perform any more reps -- then waiting 48 hours until you do them again is recommended. However, if you leave a few reps in the tank each time, use perfect form on every rep and train sub-maximally, the muscle breakdown that occurs won't be that great and you may be able to train more frequently -- perhaps two days on, one day off.
Doing Them Daily
It sounds like a recipe for disaster, but performing push-ups every day could be a highly effective method for push-up success. In "Training for Warriors," trainer Martin Rooney writes that the best way to improve your push-ups is to perform them daily. The secret to this method is performing different variations each time and never training to failure. If you feel great one day, you might perform five sets of 20 reps; if you feel weak and tired the next, you may only do three sets of 10, but a higher frequency can elicit great gains, notes Rooney. Strength coach Jason Ferruggia adds that a prime example of high frequency training producing results is Olympic weightlifting. Weightlifters train the same lifts every day and are immensely strong, but they manage this by never maxing out, unless it's a competition.
Personal Push-Ups
You may find your push-ups improve most from performing them daily. Likewise, you may experience greater improvements by training at a higher intensity and only performing them once or twice a week. If you start to experience wrist, elbow or shoulder pain, it might be that you're overusing the muscles and joints, so ease back on your push-up frequency. Experiment with different frequencies of push-ups to find what your body responds to best.