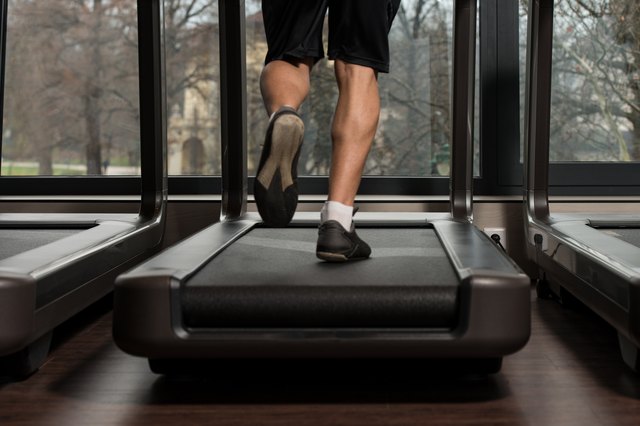 The calf muscles are located on the backs of the lower legs. When they are large and toned, they can make your lower legs look large and bulky. If you want to slim down your calf muscles and reduce any body fat, you will need to alter your weightlifting program and engage in a variety of exercises that are designed to reduce body fat while creating long, lean muscles. Eating a low-fat, reduced-calorie diet will also help further reduce fat.
Step 1
Eat a diet primarily made up of nutrient-dense, naturally low-fat and low-calorie foods. Emphasize vegetables, fruits, beans, nuts, lean protein, whole grains and nonfat dairy products in your diet. Avoid foods that are processed, fried, greasy or have added sugar, such as pizza, chips and cookies.
Step 2
Start each day with breakfast and eat small meals or snacks every three to four hours afterward. Reduce your portion sizes and eat more slowly. Stop eating when you stop feeling hungry. Although you will be eating more often, this will help reduce your calorie intake and stabilize your blood sugar for sustained energy throughout the day.
Step 3
Decrease the weight you use when you perform calf exercises. Use a weight that is light enough to allow you to complete at least 10 repetitions but no more than 15 repetitions. According to the ShapeFit website, using lighter weights allows you to improve muscular endurance without building large, bulky muscles.
Step 4
Choose running more often as your cardiovascular exercise. Running at a slower pace for longer distances helps to reduce the size of the calf muscles. Running also burns calories and helps reduce overall body fat.
Step 5
Avoid high-impact, explosive movements that can pack on size to the calves. This includes jumping jacks, jumping rope and jump squats. Focus on lower-impact cardiovascular exercise, such as swimming, cycling and elliptical training.
Step 6
Stretch your calves before and after each workout. Hold each stretch for 15 to 20 seconds. Pilates, a stretching exercise program, can also help reduce the size of your calf muscles while burning fat. Stretching exercises help elongate leg muscles and reduce the size of the lower legs.