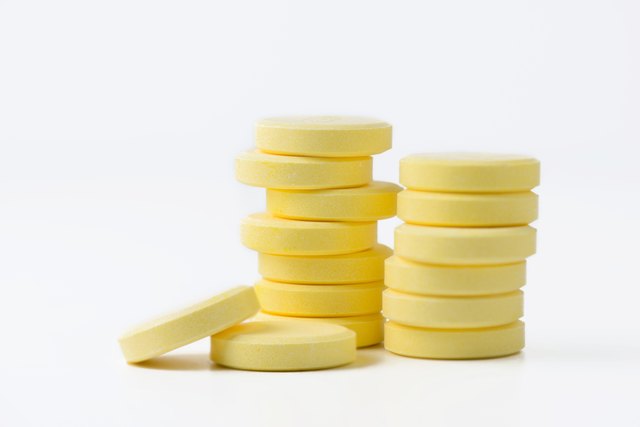 Platelet cells are one of the three main types of cells in your blood, along with red and white blood cells. Platelets are very small cells that are used by your body during the clotting process, which is triggered by an injury to a blood vessel. A low platelet count, known as thrombocytopenia, is caused by many factors and diseases, but an inadequate amount of vitamin B-12 is a primary factor. Consult with your doctor about blood tests and normal values.
Platelet Cells
Platelet cells are made in your bone marrow, as are all blood cells. Platelets circulate in the bloodstream and release granules of sticky compounds when they sense that a breach in a nearby blood vessel has occurred. Platelets are then able to stick together, with the help of vitamin K, at the site of injury and form a clot, which prevents a life-threatening hemorrhage. The average life span of a platelet cell is only 10 days, so there is constant turnover, according to the "Textbook for Functional Medicine" by David Jones.
Thrombocytopenia
Normal platelet counts are typically between 150 and 400 million/ml of blood and can fluctuate according to age, racial origin, health, exercise, injuries and infections, according to "Harrison's Principles of Internal Medicine." Thrombocytopenia is a sustained level below 150 million/ml of blood, although increased risks of bleeding typically do not occur unless levels fall to between 80 and 100 million/ml. There is not a close relationship between the number of platelets and the potential severity of bleeding until levels drop to 10 million/ml. However, high doses of vitamin E and aspirin inhibit platelet cell aggregation and increase the risks of bleeding without any reduction in the number of circulating platelet cells. Symptoms of thrombocytopenia include easy bruising, slow wound healing, and nose and gum bleeds.
Vitamin B-12
Vitamin B-12, or cobalamin, is a large, complex molecule involved in a variety of bodily processes, ranging from metabolism to brain chemistry to blood cell production. B-12 is necessary for producing healthy red blood cells and platelet cells, according to "Functional Biochemistry in Health and Disease." Specifically, a lack of B-12 causes megaloblastic anemia, which is the formation of large, immature, dysfunctional red blood cells. These megaloblastic cells affect the ability of megakaryocyte cells within bone marrow to produce platelet cells, reducing their number. B-12 is present in many animal-based foods, but it requires a chemical called gastric factor in the stomach to be absorbed. This chemical can be deficient in the elderly, so sublingual B-12 tablets or injections may be needed to combat a severe deficiency.
Complications
Folic acid, or vitamin B-9, serves many of the same functions as B-12, so there can be some confusion as to which vitamin deficiency is causing your low platelet count. Either B-9 or B-12 deficiency can lead to low platelet count, but adequate amounts of one often cover the deficiency symptoms of the other. Consult with your doctor about measuring your serum B-12 levels. Also remember that a low platelet count can have many causes aside from vitamin deficiency, ranging from serious diseases such as leukemia, to minor infections or overexertion.