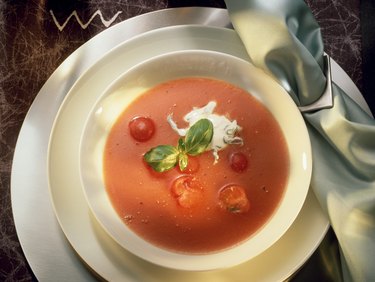 Low-fat and low-calorie canned soups are ideal for the Weight Watchers PointsPlus weight-loss program and are produced by several companies, including Progresso, Campbell's and Healthy Choice. Soup's versatility makes it an effective choice for complimenting a main dish, serving as a meal's entree or, best of all, staying on the Weight Watchers diet. Even soups that are not marketed to the health conscious are good options and can help you keep on your path to weight loss.
Progresso
Progresso offers a variety of canned soups as part of its line of light soups, including Homestyle Vegetable and Rice, Zesty Southwestern-Style Vegetable and Italian-Style Meatball with Penne. Each can comes with two 8 ounce servings that are worth one or two Weight Watchers PointsPlus points. Most of these soups are high in fiber, low in sodium and are less than 100 calories per serving. While a two- or four-point can of soup might not take care of the hunger you've built up, perhaps one of Progresso's normal canned soups will do the trick without expending your daily allotted points. For example, the company's Rich and Hearty Steak and Vegetables soup offers two 8 ounce servings and will only cost you six points per can. Progresso is the only soup endorsed by Weight Watchers.
Campbell's
Campbell's line of Select Harvest canned soups are another good selection while on the Weight Watchers program. Select Harvest soups are available in many flavors, including Italian-Style Wedding Soup, Chicken with Egg Noodles Soup and New England Clam Chowder. All of the Select Harvest flavors are made from natural ingredients and are low in calories and fat. For example, a can of Select Harvest Italian-Style Wedding Soup yields two 8 ounce servings at three points per serving. Several of the Select Harvest offerings are designated as "light" and are worth even fewer points.
Healthy Choice
Healthy Choice soups are available in microwavable bowls or regular cans and come in an assortment of flavors, including Fiesta Chicken, Zesty Gumbo and Steak and Noodle. Each flavor is low in fat and calories and is ideal for use on the Weight Watchers PointsPlus program. For example, the Zesty Gumbo soup offers two 8 ounce servings at a cost of two points per serving. Some selections, such as the Split Pea and Ham, are higher point choices and can cost up to four points per serving.
Lipton
Though technically not a canned soup, Lipton's Cup-a-Soup line of soups are another brand of instant soups that's compatible with Weight Watchers. At the time of publication, Cup-a-Soup is available in Tomato, Chicken Noodle, Cream of Chicken, Hearty Chicken Noodle and Spring Vegetable flavors. While this brand of soup does not provide a lot of fiber, its low-fat and low-calorie features keep them low in points. For example, one envelope of the Spring Vegetable soup, when mixed with water, is worth one Weight Watchers point.