Chemical imbalance in the brain is characterized by abnormal levels of neurotransmitters and hormones associated with affecting mood, sleep, anxiety and appetite. Certain nutrients from food cross the blood brain barrier and synthesize production of neurotransmitters and hormones. Some diets can stimulate or inhibit neurotransmitter and hormone production, thereby affecting the chemical balance in your brain. Consult your doctor about your diet and how food can cause changes in the chemical balance in your brain.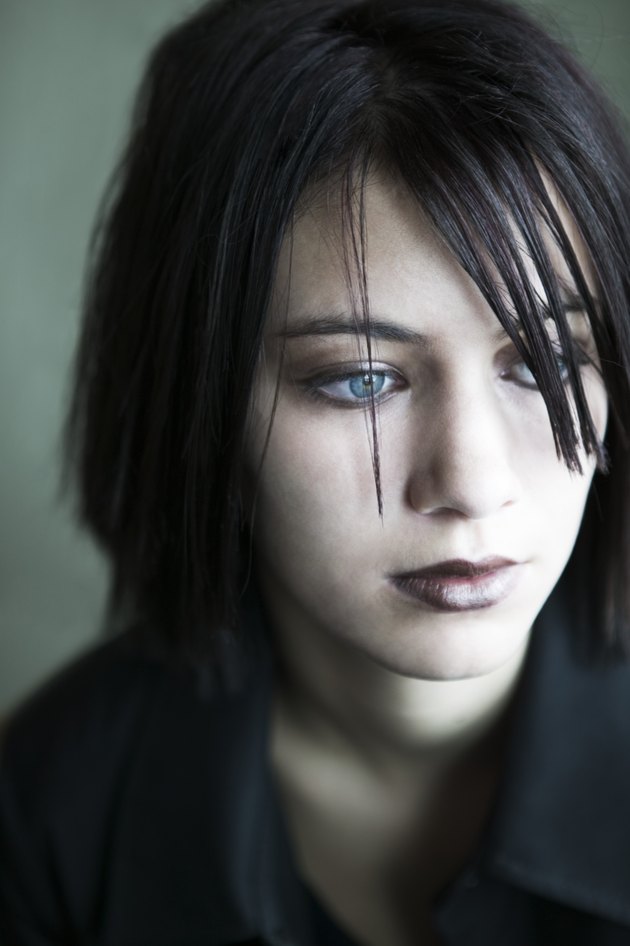 Brain Chemicals
Nerve cells in your brain produce neurotransmitters from amino acids found in food. Neurotransmitters are chemicals that communicate messages between nerve cells in your brain. Tyrosine is an amino acid that nerve cells convert to dopamine and norepinephrine. Another amino acid, tryptophan, is converted by the brain to serotonin and melatonin. Dopamine, norepinephrine and serotonin are neurotransmitters, whereas melatonin is a hormone the pineal gland in your brain secretes into blood at night.
Disorders With Chemical Imbalances
Dopamine affects movement and mood swings, and deficiency increases risk of schizophrenia. Scientists at the Louis Stokes Cleveland Veterans Affairs Medical Center in Brecksville, Ohio found consuming a tyrosine deficient diet depletes the brain of dopamine and norepinephrine and increases risk of schizophrenia, according to research published in "Brain Research" in January 2008. Dietary depletion of tryptophan induces deficiency of mood-altering serotonin and increases risk of depression, notes a study published in "Psychopharmacology Bulletin" in 2003. Melatonin regulates circadian rhythms and sleep-wake cycle; tryptophan depletion decreases melatonin secretion, suggests research published in the "Journal of Clinical Endocrinology and Metabolism" in May 1993.
Meat and Dairy
Meat and dairy are protein-rich foods that contain high amounts of large, neutral amino acids that stimulate muscle growth. Eating meat and dairy products increases your risk of brain deficiencies of norepinephrine and serotonin because the large amount of large neutral amino acids competes with small amounts of neurotransmitter precursors, tyrosine and tryptophan, to cross the blood brain barrier. The less tyrosine and tryptophan that enters your brain, the less dopamine, norepinephrine, serotonin and melatonin you are able to produce. Scientists at Massachusetts Institute of Technology in Cambridge found ratios of tyrosine to large neutral amino acids and tryptophan to large neutral amino acids decline after eating a protein-rich meal, according to research published in the "American Journal of Clinical Nutrition" in January 2003.
Whole Grains and Fruit
Whole grains and fruit are carbohydrate foods that contain sugar and induce insulin secretion in the blood. Insulin not only transports sugar into the cells, but it also stimulates the skeletal muscle to absorb large neutral amino acids called branched chain amino acids. As a result, the ratio of tyrosine to large neutral amino acids and tryptophan to large neutral amino acids increase after eating carbohydrate meals, enhancing a higher amount of these amino acids to enter your brain and produce neurotransmitters, according to the research by scientists at MIT in 2003.