When you are feeling sick, the best drinks make you feel better both physically and psychologically. Depending on whether you are weathering the flu, recovering from a stomach ailment or soothing a head-cold, the best beverage for you will hydrate your body, provide you with nutrients to mitigate your symptoms and aid a speedy recovery.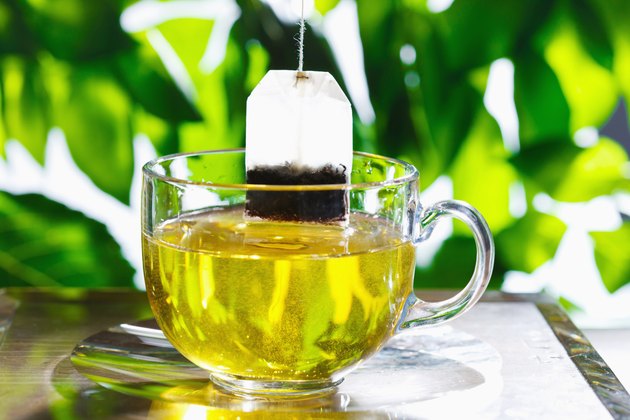 Herbal Tea
A cup of warm herbal tea can help relieve the symptoms of many illnesses, from an upset stomach to a nasty cold. Ginger tea relieves nausea, including queasiness related to morning sickness. Chamomile tea has a mild floral flavor and may help soothe an upset stomach. When you have a cold, teas made from peppermint or verbena can help you to stay hydrated while freshening a dry mouth. Adding lemon to herbal tea can give you additional vitamin C, which supports immune system functioning. Add a spoonful of honey to your tea for sweet relief for an irritating cough.
Broth
Being sick can decrease your appetite, making it difficult to enjoy nutritious meals. A cup of hot vegetable or chicken broth can provide the vitamins you need without requiring you to crawl out from under your blanket. Additionally, broth is warming and helps hydrate you --good qualities when you are under the weather. Prepare stock from scratch when you are well and keep it in the freezer to defrost when you need it. Keep packets of instant bouillon on hand for emergencies.
Water
Water is vital to recovering from most illnesses. It helps your body's natural detoxification systems to function, flushing waste from cells. Keep a pitcher at room temperature near your bed. Keep a kettle on the stove for making herbal tea. Squeeze lemon, lime or orange juice into warm water to add flavor and vitamin C. Add a spoonful of molasses or maple syrup for sweetness and additional calories.
Juice
Fruit juices can be refreshing and nourishing when you are feeling sick. They also provide necessary calories when you do not have an appetite. Drink citrus juices for vitamin C. Choose vegetable juices, such as carrot-ginger, tomato-garlic or a spinach-banana smoothie, for additional health benefits, like vitamin A, magnesium and antioxidants. If you do not have a juicer, buy 100% juice blends with no added sweeteners for the most nutritional impact.