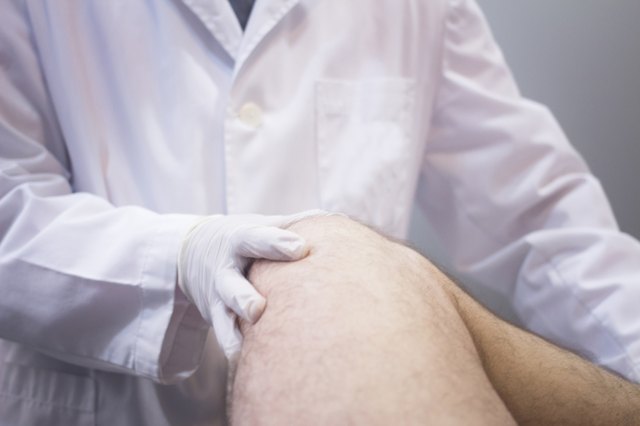 Running with a torn meniscus will only exacerbate the injury because the meniscus is knee cartilage, a substance that helps absorb shock during running. Meniscus cartilage also cushions the bones that make up the knee joint, so they don't rub together as you bend and straighten your knee. A torn meniscus not only severely reduces the knee's ability to stabilize joint movement, it also causes pain when the knee bends and makes it unreliable for weight bearing activities like running.
Symptoms of a Torn Meniscus
When you tear your meniscus, you may experience a popping or tearing sensation in the knee, followed by joint pain that may be moderate or severe. Although some people are still able to run or walk, movements will be painful, and it may feel as if the affected knee is too weak to continue supporting any body weight. Within a short period of time, a torn meniscus may stiffen and swell enough to prevent you from running. Only a thorough examination by a physician can ascertain the amount of damage done to the knee.
Treatment for Meniscus Injury
Depending on the size and location of the tear, a doctor may prescribe several treatment options. Small tears or tears that are in a location where blood supply is abundant tend to heal on their own. Ceasing all running activities, applying ice for swelling and pain, and resting the knee in an elevated position are the best treatment options for a meniscus injury. After two or three weeks, a doctor may recommend a series of rehabilitative exercises, such as leg extensions, to strengthen the knee.
Consequences of Running with a Meniscus Tear
Do not return to your exercise program until your doctor tells you it is safe to do so. If you continue running with an unhealed meniscus tear, you risk causing long-term or permanent damage to your knee. Some of this damage could require a knee operation with a five-month recovery period.
Meniscectomy
In chronic cases of meniscus injuries aggravated by running or exercising when the cartilage has not sufficiently healed, a procedure called a meniscectomy may be performed arthroscopically. Specialists remove or trim damaged cartilage from the rest of the healthy meniscus cartilage, in the hopes of reducing knee pain and eliminating knee popping and weakness. Many patients who undergo this operation recover and are able to return to normal, if slightly reduced, activities, according to the American Academy of Orthopaedic Surgeons.