A typical cookie recipe calls for a mere spoonful of baking soda or baking powder, so it's tempting to underestimate their value. Don't make this mistake. Baking soda and baking powder are powerful chemical agents. Without them, the entire character of a batch of cookies changes -- usually not for the better. Unless you want a cookie with a dense, hard texture, always use a leavening agent.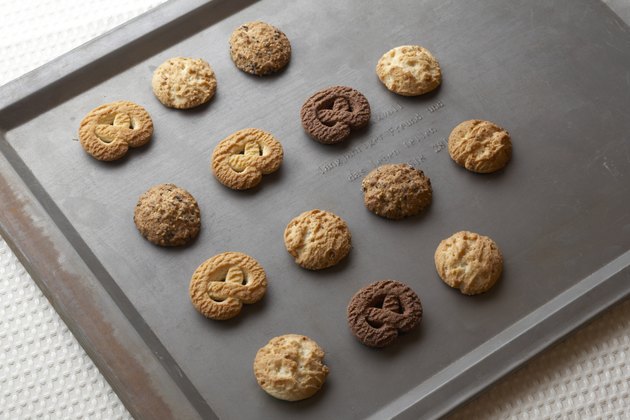 Shortbread, Anyone?
Baking soda and baking powder act as chemical leaveners in cookies, causing them to rise or spread slightly. They can also influence texture. Baking soda gives cookies a coarse, chewy texture, while baking powder makes a light, fine texture. If you forget to add baking soda or baking powder to the cookies, they'll likely be flat and somewhat hard. Lots of baked goods are made without leaveners, including tortillas, crackers and flatbreads. Shortbread or English biscuits, which have a dense, firm texture, are some of the few cookies typically made without baking soda or baking powder.
Chemical Leavener Magic
To appreciate their role in baking, you need an understanding of what baking soda and baking powder do. Baking soda, or sodium bicarbonate, is mined almost exclusively from an ore found in Wyoming. Developed in 1846 by two New York bakers, baking soda forms carbon dioxide bubbles when it interacts with an acid, such as vinegar, molasses, buttermilk or brown sugar.
Baking powder contains baking soda, cream of tartar and cornstarch. The cream of tartar provides the counteracting acid, while the cornstarch absorbs moisture. Baking powder begins to bubble when exposed to liquid and bubbles even more when exposed to heat. The starches in batters and dough trap the bubbles so they don't escape into the air. Instead, the bubbles cause the dough to rise and expand. Voila! Light, chewy cookies.
A Quick Fix
You can remedy a batch of cookies if you forgot to add baking soda or baking powder. Sprinkle the leavener over the cookie dough and mix it in thoroughly. If you merely dump it on top of the dough, it probably won't blend well and you might be left with bitter white clumps. If you've already made a batch or two of cookies before you realize your error, cut the amount of leavener you use. Using too much baking soda, especially, can leave a bitter flavor in the cookies.
Making Substitutions
Sometimes it's confusing to know which leavener to use in a specific recipe. If you're making a soft, chewy cookie, such as a chocolate chip cookie, use baking soda, which will allow the cookie to spread. If you're making rolled and cut cookies, such as sugar cookies or gingerbread men, use baking powder. Baking powder causes cookies to rise, but not spread. If you run out of the right type of leavener, it's better to use a substitute than go without. If you run out of baking powder, you can make your own by combining 2 parts cream of tartar to 1 part baking soda and 1 part cornstarch. To substitute baking powder for baking soda, use 1 teaspoon baking powder for every 1 cup of flour.