If you avoid eating garlic because the smell comes out of your skin pores for days, you're not alone. Garlic, an herb used in many food dishes as well as a supplement in alternative medicine, can definitely cause a distinct and persistent body smell that can linger for days. Garlic can also linger on your breath.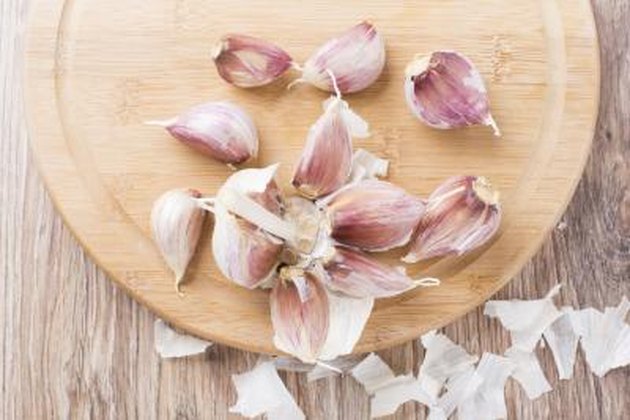 Cause
The ingredient responsible for garlic's pungent and easily recognizable odor is allicin, an unstable compound released from another substance called aliin when you cut or crush garlic. Allicin breaks down quickly after you eat it and converts to other substances. Many alternative practitioners tout allicin as the source of garlic's health benefits, although this has not been adequately proven in clinical studies, according to the University of Southern California University Hospital.
Sweating it Out
If you didn't sweat, the garlic smell that comes out of your skin pores probably wouldn't be so bad. Sweat normally has no odor until it reacts with bacteria on your skin, but the odor from sulphur-like compounds produced from the breakdown of some herbs and spices, including garlic, onion, cumin and curry, comes through the pores in your skin.
Decreasing the Smell
Avoiding garlic altogether is the best way to decrease the lingering smell, but many people would rather suffer the smell than give up garlic. A Japanese scientist, Dr. Isao Sakai, has created a solution made from natural silica and organic plant sources, which he says reduces the garlic smell from your skin and breath after two to three days soaking time, according to V. Rau Vemuri of the University of California. Chewing leaves high in chlorphyll may also help neutralize the odor, Vemuri ssays.
Considerations
If you love garlic-flavored foods, you will probably keep eating them despite the potentially socially unacceptable consequences. One potential benefit to eating garlic is that the smell may act as an insect repellent, keeping away not only social acquaintances, but also more pesky mosquitoes and other insects.