Probiotics are "friendly" bacteria found in foods such as yogurt, miso or kefir. They're also available in supplements in the form of liquid, powder or capsules. These bacteria, such as Lactobacillus acidophilus, help to keep a healthy balance of intestinal flora in your intestines and provide various health benefits, such as boosting your immune system or improving intestinal health. But it's not all good news with these friendly bacteria. They can cause symptoms similar to those you might experience on a detox diet.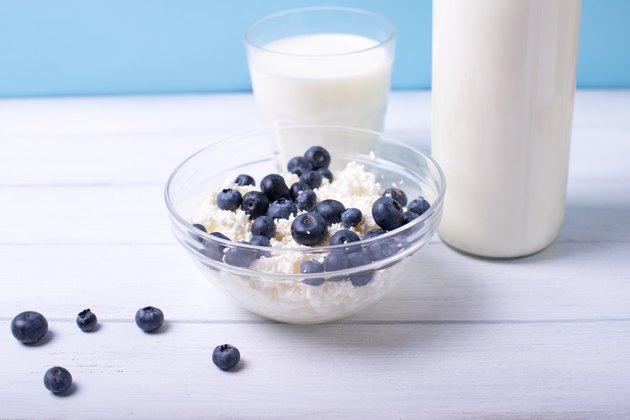 Gas and Bloating
Boosting fiber intake from foods such as fruits, vegetables, nuts and seeds, is a common detox approach to help cleanse. Suddenly increasing fiber consumption can lead to a buildup of gas in your gastrointestinal tract and accompanying symptoms such as bloating, belching and abdominal discomfort. Suddenly increasing your intake of probiotics can also cause symptoms such as gas or flatulence, notes Leslie Beck, author of "The Complete A-Z Nutrition Encyclopedia."
Allergies
In some types of detox diets, such as a juice fast, you may develop an overgrowth of Candida, which is a type of fungus. One of the symptoms of this condition is allergies, notes Brenda Watson, a certified nutrition consultant and co-author of "The Detox Strategy." Some probiotic supplements may also cause allergic reactions. However, it's likely not the probiotic itself, but the vehicle that contains it, such as milk or soy. If you have an allergy to soy or dairy, avoid these types of probiotics to reduce your risk of having an allergic reaction.
How to Minimize Symtpoms
If you're not used to consuming probiotics, start with the lower recommended amount per day of about 1 billion organisms. Immediately boosting your intake with 5 or 10 billion will make symptoms more likely. Gradually increase the amount you take each day, or as long as you're not experiencing any symptoms. According to Beck, symptoms will subside as your body gets used to the probiotics.
Considerations
For general health, the NYU Langone Medical Center recommends adults take between 3 and 5 billion live organisms. You can take probiotics in divided doses throughout the day to reduce side effects such as gas or bloating. It's best to take probiotics with food so that most of them survive the acidity of your stomach, Beck advises. Do not take probiotics if you have a condition such as pancreatic cancer or disorders, such as human immunodeficiency virus, or HIV.