To develop significant mass in your shoulders, participate in weight-training workouts that feature multiple sets of a high number of reps. The major muscle in the shoulders is the deltoid, which consists of the anterior head at the front, the lateral head in the middle and the posterior head at the rear of the shoulders. For a round appearance at the shoulders, incorporate exercises that target each of these three heads.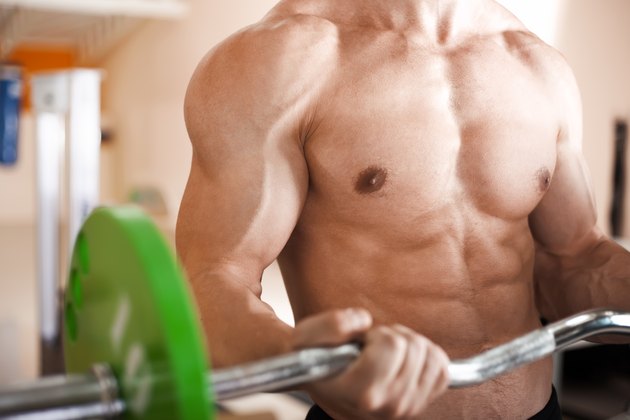 Step 1
Participate in a strength-training workout focusing on the shoulders two days a week. Your workouts are going to fatigue and damage your shoulder muscles, so you'll need to allow them two days of recovery time in between each training session. Workouts on Wednesdays and Saturdays, for example, would be appropriate.
Step 2
Complete three to five sets of eight to 20 reps of each exercise. This workout volume is recommended by strength and conditioning professional Lee E. Brown for building significant muscle mass.
Step 3
Begin your workout with the military press, which primarily works the front of your shoulders, but also exercises the triceps. Grip a weighted barbell with your hands set shoulder-width apart and position it at your shoulders so that your palms are facing away from you. Push the bar over your head until your arms are straight and the bar finishes directly above your ears, and then lower it back to your shoulders.
Step 4
Complete sets of the upright row with a weighted barbell. The upright row targets the center of your shoulders, but it also works your biceps. Stand and hold the barbell in front of your thighs with your hands set shoulder-width apart and palms facing your legs. Pull the bar up to your upper chest, keeping the bar close to your torso and flaring your elbows out to your side.
Step 5
Incorporate lateral raises, which work the center of your shoulders, into your workouts. Stand and hold dumbbells down by the side of your legs with your palms facing in toward the sides of your legs. Keep your arms straight as you lift them up and out to your sides until they're parallel to the floor. Then lower them back to your legs.
Step 6
Perform lying rear lateral raises to develop the back of your shoulders. Lie face down on a flat bench with your arms hanging down toward the floor and a dumbbell in each hand. Lift your arms up and out until they're parallel to the floor and your palms are facing the floor.
Tip
Use an appropriate amount of weight based on your current strength levels. You want your muscles to be fatigued at the end of every set, so use a weight that makes you reach failure within 20 reps.
Warning
Properly warm up your shoulders and arms before beginning your workout to reduce your risk of injury. See your medical professional prior to starting a new workout program.