Both shoulder shrugs and upright rows work your trapezius, but upright rows also work your shoulders. So while upright rows work more muscles, the shrug allows you to work a solitary muscle harder, as you can use far more weight when performing shrugs. For best results, combine both exercises in your exercise program. Consult a health-care practitioner before beginning any strength-training program.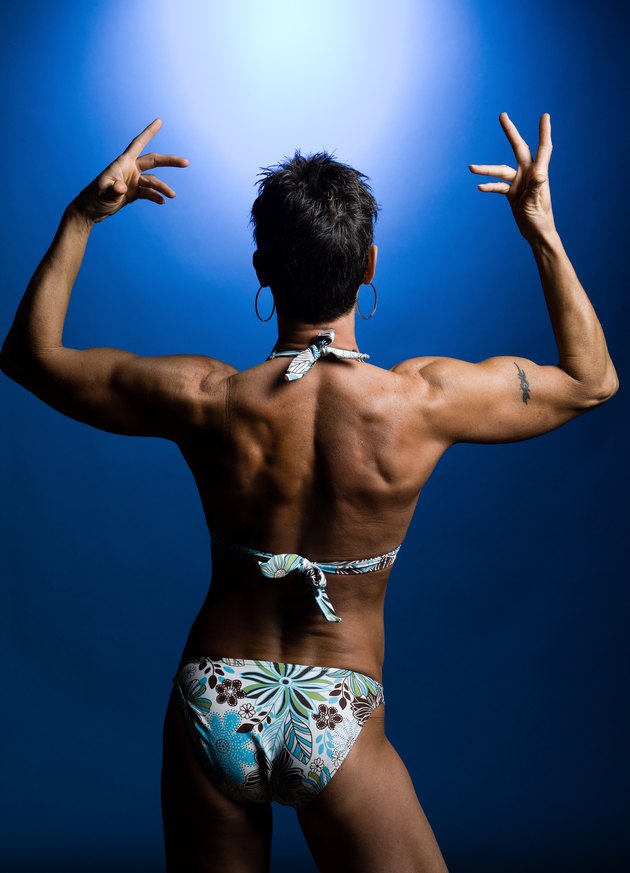 Shrugs
Shoulder shrugs, or shrugs, primarily work your trapezius -- the large muscle that covers much of your upper back. This muscle maintains the position of your shoulder blades and assists with the posture of your upper back and spine. To perform a shrug, grip a barbell with an overhand grip with your hands shoulder-width apart. Without bending your arms, shrug your shoulders up and hold at the top for a count of one, then lower the weight.
Shrug Variations
For variety, use dumbbells to shrug. This does not allow you to work the muscle differently, but you may be able to position the dumbbells for a more comfortable version of the exercise. You can also perform shrugs with a snatch, or wide grip. This stretches the muscle more, and you can work through a slightly greater range of motion. You can rotate all three versions of the exercise in and out of your program.
Upright Rows
The upright row works your trapezius but also works your lateral and posterior deltoid. Your shoulder muscle consists of three parts, or heads, and the lateral and posterior are the side and back, respectively. These heads of your muscle work to pull your arm up and back, and assist with upright row. To perform an upright row, grip a barbell with your hands between 6 and 12 inches apart, and pull your elbows up and out until the bar nearly touches your chin. Hold for a count of one and lower the bar under control.
Upright Row Variations
You can perform the upright row with a wider grip, although this requires more flexibility in the shoulders and it is difficult to pull the bar as high. You can perform the exercise with dumbbells, although the instability of the dumbbells severely limits the weight you can use. Whatever style you choose, do not throw the weight up with your lower back -- if you want to train your lower back, perform a deadlift. Move the bar through a precise and controlled path.