Yogis, rejoice! A regular yoga practice can contribute to a flatter, stronger stomach, as most of the poses require you to use ab muscles for stabilization. The twisting and bending involved in yoga may also help reduce bloating that makes your middle look padded.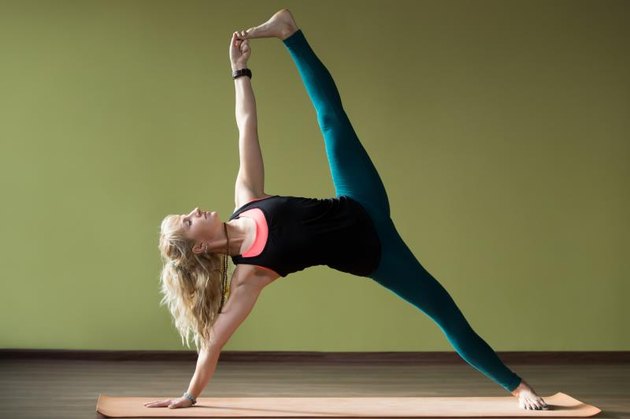 If you have a layer of fat covering your muscles, however, you'll have to lose it first to see any stomach-flattening results of your practice. Include yoga as part of a comprehensive plan to lose weight, but make sure it's not the only part.
Obstacles to a Flat Stomach
A "poochy" stomach often results from an excess of fat. It's common to store fat, accumulated from eating too much food and too little movement, in this area. The soft and squishy subcutaneous fat of your belly lies just under the skin and poses little health risk, but can make your jeans tight.
Your stomach area is also home to visceral fat, which surrounds your internal organs and secretes compounds that raise inflammation and risk of disease. A sedentary lifestyle, hormones and consumption of processed foods often contribute to the development of visceral fat.
Some people may not carry a lot of excess weight in their stomach, but suffer from <ahref="http: www.niddk.nih.gov="" health-information="" health-topics="" digestive-diseases="" gas="" pages="" facts.aspx"=""> </ahref="http:>gas and bloating that makes an otherwise flat stomach look round and feel uncomfortable. If bloating is chronic, talk to your doctor; often, it's due to dietary choices, smoking or an abundance of carbonated drinks.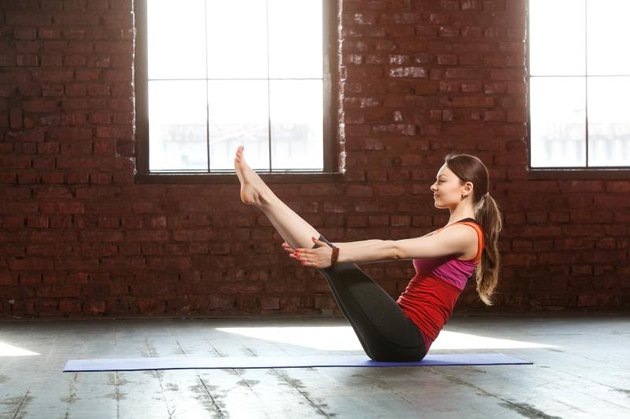 Yoga's Caloric Burn
Poses, such as boat, plank and warrior III, certainly strengthen the muscles of your abdomen. But, you can't see those strong abs if you have fat covering them. Cardiovascular exercise — especially done at a high-intensity intervals — burns major calories, so your body has to dip into its fat stores for energy.
Although an intense vinyasa or Ashtanga class may make you feel breathy, sweaty and spent — it doesn't typically raise your heart rate the way vigorous cardio, such as jogging or jumping rope, does.
Yoga doesn't burn calories like vigorous cardio does, either. In one hour of work, a 150-pound, 5-foot, 5-inch woman burns:
189 in Hatha yoga, involving longer holds and deep breathing

351 in Ashtanga yoga, involving rigorous flows from posture to posture

576 mountain biking
684 running 6 mph
If you aren't burning more calories than you consume, a regular yoga practice may give you incredible core strength but not help you lose the weight to see a flat stomach. Try either cutting out calories from your diet or including more cardio in your exercise routine.
Yoga's Muscle-Building Ability
The greater proportion of muscle you carry, the more calories you burn all day long. An active practice that involves lots of standing poses and sun salutations can help build strength in your core, arms, chest and legs.
However, it may not be enough to boost your metabolism and stimulate fat-burning hormones to help you lose extra pudge and achieve a flat stomach. Incorporating strength training with heavy resistance, such as dumbbells or kettlebells, performed to near fatigue, builds muscle in a way that the bodyweight work of yoga can't.
What Yoga Can Do
Don't give up on your mat just yet, however. A 2015 study in Diabetology and Metabolic Syndrome showed that older adults with metabolic syndrome — a cluster of symptoms including excess belly fat — who practiced yoga regularly for a year did experience a decrease in visceral fat and overall waist size.
They didn't get a flat stomach, per se, but improved their health and significantly decreased their risk of developing heart disease and type 2 diabetes. This effect on visceral fat may be related to yoga's ability to reduce stress and the effects of inflammatory compounds (known as adipokines and cytokines) and improved psychological well-being, according to a 2014 review in the Indian Journal of Medical Research.
Certain yoga poses can also relieve digestive distress — such as gas and bloating — that make an otherwise flat stomach distended and large. Twisting poses, such as revolved triangle and supine twist, or poses that add pressure to your abdomen, such as wind-relieving pose or downward dog, are effective.
These poses may be effective whether you've got a food hangover from a heavy meal or a chronic digestive problem such as irritable bowel syndrome.