You may have wondered if you can eat the skin of baked sweet potatoes. Well, yes you can —and you should! The copper-colored skin that wraps around a whole sweet potato contains most of the healthy vitamins, minerals and antioxidants, including a host of phytochemicals that have protective and disease-preventing properties. Eating the skin of a baked sweet potato will reward you with anti-inflammatory and anticancer benefits from the wealth of nutrients this root vegetable offers.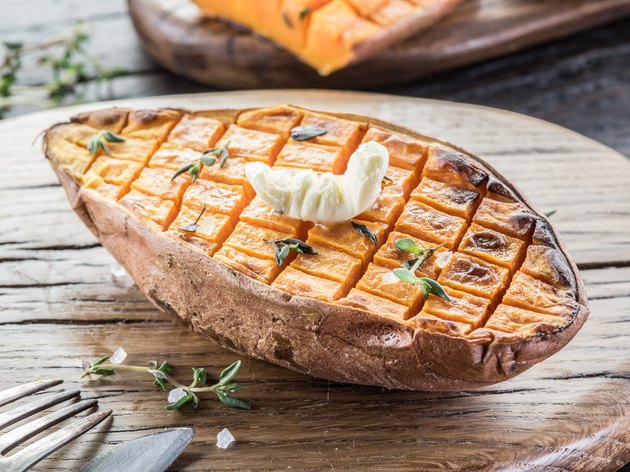 Tip
High vitamin A content is just one of the benefits of sweet potato skin nutrition. The skin and flesh of fresh, baked sweet potato are a low-fat source of fiber and vitamins that contribute to a healthy diet.
Dried Sweet Potato Skins Versus Fresh
Although TGI Fridays makes a dehydrated sweet potato skin snack from sweet potatoes, it packs a boatload of calories — 200 per small package (40 grams). Compare that to a 60-gram whole fresh sweet potato baked with skin, with only 54 calories.
Dehydrated sweet potato skins have more total fat —11.4 grams per package — compared to a whole, small, 60-gram sweet potato with the skin on, which has 0.1 gram. Most of the calories in dried sweet potato come from its carb content, with a 40-gram bag serving up 23 grams of carbs. And consider the sodium factor — 157 milligrams in a package of dried sweet potato skin snacks as opposed to 21.6 milligrams in a whole sweet potato with skin.
Doesn't it make sense that eating sweet potato skins in their natural form is a healthier option?
Sweet Potato Fiber for Digestion
Dietary fiber not only slows digestion to help manage your weight, it can help you improve blood cholesterol levels and lower your risk of heart disease, stroke and even Type 2 diabetes, according to the American Heart Association. Dietary Guidelines recommends you include between 22.4 and 33.6 grams of fiber a day, depending on your gender and age.
Most of the dietary fiber in sweet potatoes is in the skin, but the potato as a whole is a good source of both soluble and insoluble fiber. Fiber helps you have a well-functioning digestive tract and keeps you regular by providing bulk to your stool. Eating your baked potato with the skin will provide 3.3 grams of total fiber or 13 percent DV per 100-gram serving; a cooked sweet potato without the skin has 2.5 grams or 10 percent DV per 100 grams.
To put the serving of 100 grams into perspective, one medium-size sweet potato, 5 inches long and 2 inches in diameter, weighs about 114 grams.
Sweet Potato Carbs for Energy
Carbohydrates provide fuel for energy and help with fat metabolism. USDA recommends that your intake of carbs should be from 45 to 65 percent of your daily caloric intake, which amounts to about 130 grams per day. Eating a sweet potato with the skin will provide 7 percent of your daily value for healthy complex carbohydrates, with 21 grams per 100-gram serving.
Sweet Potato Protein to Build Tissue
Your body needs protein for energy and many other functions, including building and maintaining your bones, muscles and skin. USDA recommends that 10 to 30 percent of your calories should consist of protein, which amounts to about 56 grams for men and 46 grams for women. Although not a large contributor, most of the protein is in the sweet potato skin. The skin and flesh of a baked sweet potato contain 5.6 grams of protein, while a potato without the skin has only 1.2 grams per 100 grams.
Sweet Potato Healthy Mineral Content
Sweet Potato Antioxidant Vitamins
Sweet Potato Protects Against Cancer
Sweet Potato Benefits for Skin
Sweet Potato for Eyesight
The high content of vitamins A, C and E in sweet potatoes also plays a role in promoting good vision. A deficiency in vitamin C is often associated with the development of cataracts. Vitamin E may help people with early signs of the eye disease to reduce the risk of age-related macular degeneration.
Vitamin A helps maintain the proper structure of your retina. A deficiency of vitamin A can contribute to poor night vision, and even blindness. In addition, dryness and ulceration of the cornea has been linked to vitamin A deficiency.
Sweet Potatoes Help You Sleep
What Makes Sweet Potatoes Sweet?
With less than 4 grams of sugar in a small baked sweet potato, you might wonder why these little root vegetables are so sweet. The answer is due to an enzyme that, when heated, breaks down the starch into maltose, a type of sugar. You can enhance the sweetness even more by baking sweet potatoes in their skin slowly on low heat. That allows the enzymes time to convert the starch to sugar, suggests Food Revolution Network. A temperature of 135 F activates the sweet potato enzyme, but raising the temperature to around 170 F stops the reaction.