Soreness and bruising in the toes is not unusual for runners, especially if you are training for a long race or have recently amped up your mileage. When you run, your feet slide forward in your shoes and more blood flow is sent to the feet and toes. Over time, fluid can build up under the nail, explains "Running Times"magazine. There are ways you can alleviate and prevent sore toes, but you might not be able to completely avoid it. See your doctor if you are concerned about the soreness or if it persists.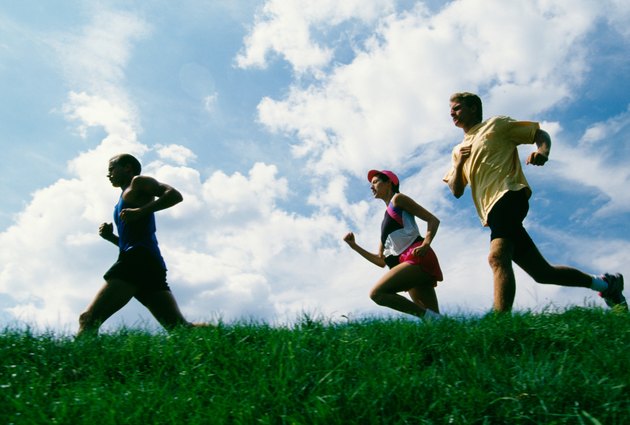 Step 1
Evaluate whether your running shoes are too tight. According to Road Runner Sports, your running shoes should fit a little bigger than your other shoes. It suggests having a thumb's width of room between the end of your longest toe, which might not be your big toe, and the front of the sneaker. The shoes should fit snugly in the heel; they should not slip on your feet.
Step 2
Buy your running shoes in the afternoon or evening, when your feet are slightly swollen from the day's activity. Your feet will swell when you run, and buying running shoes when your feet already are slightly swollen will give you a more accurate fit.
Step 3
Apply ice to your toes after a run. This will help lessen pain and reduce swelling.
Step 4
Switch your socks. According to "Running Times", socks that are too thick or too small can cause sore toes. Try buying a different brand or material of sock.
Tip
You might want to have your gait evaluated by an exercise physiologist. According to the Harvard University Skeletal Biology Lab, if you have recently switched your stride from heel striking to midfoot or forefoot striking, you might be experiencing sore feet and toes. Even if you have not switched your gait, a physiologist might be able to instruct you on how to land so as not to put so much stress on your toes.
Warning
See a doctor if your toes remain sore or bruised. You do not want to be running on them if you have a stress fracture.