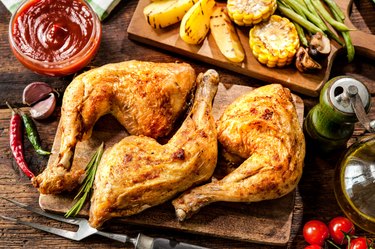 Chicken hindquarters contain the dark thigh and leg meat and skin and work well for roasting and grilling. The dark meat tends to be higher in calories than the white breast meat; one chicken leg with skin contains around 310 calories, 30 grams of protein and 20 grams of fat. Removing the skin cuts the calories in half; skin; one hindquarter without the skin contains 156 calories, 26 grams of protein and 5 grams of fat.
Roasted Chicken
Step 1
Preheat your oven to 450 degrees F.
Step 2
Coat a rimmed baking sheet or a glass baking dish with 1 tablespoon of vegetable oil. Place 2 pounds of chicken hindquarters on the baking sheet and turn them a few times on the sheet to get a coating of oil. Position the hindquarters skin side up.
Step 3
Mix 1 tablespoon of salt, 1 1/2 tablespoons of black pepper and 2 teaspoons of dried thyme to taste. Add 1/4 teaspoon. of nutmeg, basil and rosemary, if you wish. Mix the seasonings together in a bowl. Sprinkle half of it over the thighs. If you want to serve vegetables along with the chicken, use the remaining seasoning to coat them.
Step 4
Place the chicken inside the oven. Bake the chicken hindquarters until the skin is brown and the chicken is cooked, approximately 45 minutes; or remove the chicken after 30 minutes, add vegetables such as sliced potatoes, carrots and broccoli to the baking sheet with the accumulated juices from the chicken, put the vegetables in the oven and roast for 30 minutes. Place the thighs on top of the vegetables and cook for another 15 minutes.
Grilled Hindquarters
Step 1
Prepare a marinade of your choice or mix 1/2 cup of fresh lime juice, 1/3 cup of fresh orange juice, 1/4 cup of olive oil, 1/4 cup of cilantro, 2 sliced garlic cloves, 1 teaspoon of hot sauce and 1 teaspoon of crushed red peppers in a resealable bag. Add salt and pepper to taste. Place the chicken hindquarters in the bag and marinade for 4 hours, turning the bag occasionally
Step 2
Preheat the grill to medium heat. Remove the chicken from the marinade and place it on the grill rack.
Step 3
Grill the chicken hindquarters, turning occasionally, until the skin is charred and its juices run clear, approximately 25 minutes. Pierce it with a knife to check, or use a meat thermometer. Chicken thigh meat should reach 170 degrees Fahrenheit to be fully cooked.
Things You'll Need
Roasted:

2 pounds chicken hindquarters

Rimmed baking sheet or glass baking dish

1 tablespoon vegetable oil

1 tablespoon salt

1 ½ tablespoons black pepper

2 teaspoons thyme

Bowl

Grilled:

6 pounds chicken hindquarters

1/2 cup fresh lime juice

1/3 cup fresh orange juice

1/4 cup olive oil

1/4 cup of cilantro

2 sliced garlic cloves

1 teaspoon hot sauce

1 teaspoon crushed red peppers

Resealable bag

Salt

Black pepper