Of the hundreds of models of exercise equipment on the market designed specifically to tone and tighten the abdominal muscles, you've selected a waist twisting disc. Now you need to know how to use it. Once you master your balance, the rest is easy. Simply by rotating at the waist, you can work all the muscles of your core, including the abs, obliques and lower back. Adding weight makes the exercise more challenging.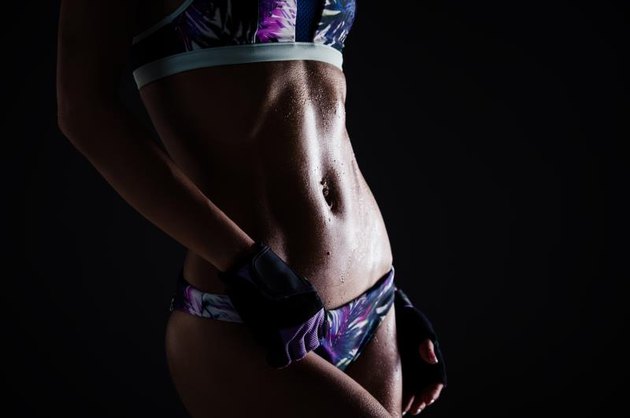 Find Your Balance
A waist twisting disc has two parts; a bottom disc that remains static, and a top disc that rotates on top of the bottom disc. Although the bottom disc is stable, the fact that the top disc moves will at first be a challenge for your balance. Before you start twisting, take some time to find your balance on the equipment.
Step 1
Step on to the disc with your right foot. Place your whole foot solidly onto the disc near the middle.
Step 2
Engage your core muscles as you step your left foot onto the disc close to your right foot. When you feel secure, slowly move your feet farther apart until they are just under your hips or a little wider.
Step 3
Bend your knees slightly to assume an athletic stance. Extending your arms out to the side will help your balance. Maintain this position throughout the exercise.
Initiate the Twist
Once you feel comfortable balancing on the disc, you can start to twist.
Step 1
With control, rotate through your core, moving your hips and knees to the left. Your upper body will rotate slightly to the right.
Tip
Have a second disc? You can do this exercise standing with one foot on each disc. This still works your core, and it tones your legs, according to the manufacturer.
Step 2
Come back through center with a slow and controlled motion, then rotate your hips and knees to the right. Your upper body will move slightly to the left.
Step 3
Rotate a little farther to each side with every repetition. Breath in a slow and controlled manner.
Exercise Variations
On its own, this exercise doesn't provide much of a challenge, once you've got your balance. After a while, you'll need to change it up to challenge your core. You can do this by adding weight.
Tip
If you don't have a waist twisting disc, you can do similar exercises on a half-dome exercise ball or a balance board. Half-domes and balance boards have a static bottom, so your hips will remain facing forward; only your upper body will rotate.
Add Weight
Step 1
Hold a stability ball or a medicine ball in both hands with your arms extended out in front of you.
Step 2
Twist to the left and right in a slow and controlled motion.
Step 3
Increase the weight to make the exercise more challenging. You can use a heavier medicine ball, a dumbbell or a weight plate.
Challenge Your Balance
Step 1
Move one foot to the center of the disc. Lift your other foot a few inches off the disc.
Step 2
Keep your balance as you rotate to the left and right.
Step 3
Add weight once this becomes easy.
Tip
The makers of the waist twisting disc recommend using it daily for five minutes in the morning and five minutes in the evening. If that doesn't fit your schedule, you can use it in five-minute increments as part of your regular ab workout -- whether that's every day or a few times a week. Follow it up with other effective core exercises, such as bicycle crunches and planks.