Walking is a simple and natural way of moving, but with proper technique, you can turn casual walking into power walking or fitness walking. Power walking is a low-impact way to improve cardiovascular endurance and total body strength. Some of the benefits of power walking are that it helps tone and strengthen your muscles, improves physical health and burns the same amount of calories as jogging. Keep a few tips in mind when power walking, in addition to checking with your physician prior to starting a fitness program.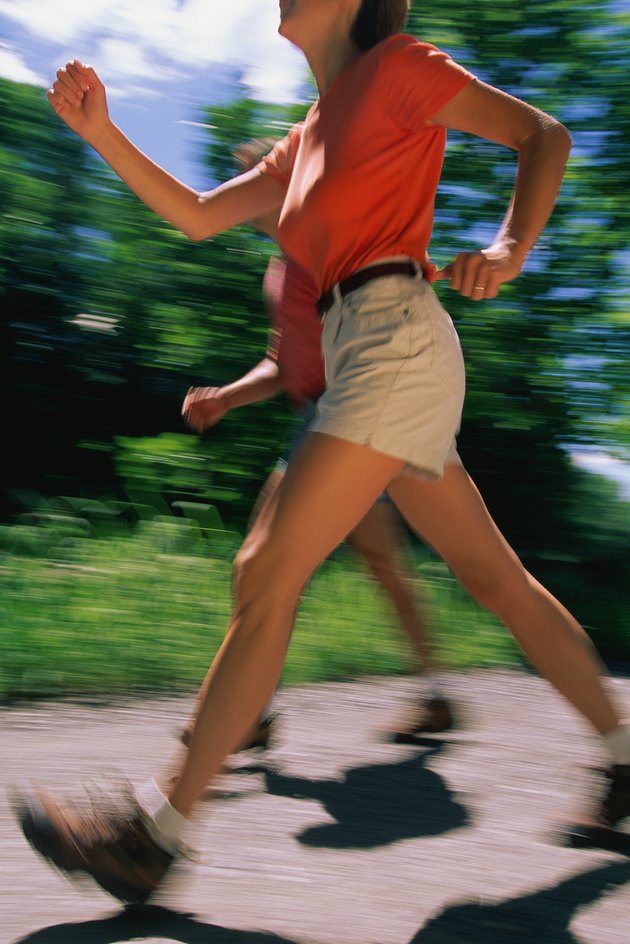 Step 1
Warm up with a few calisthenics exercises such as jumping rope or jumping jacks for about five minutes. Choose a casual walk for five minutes for a low-impact option.
Step 2
Stretch your muscles to prevent injury. Perform calf, quadriceps, hamstring, hip flexor, shoulder and triceps stretches once your muscles have become warm enough to stretch.
Step 3
Place your arms in a 90-degree angle and keep your back upright.
Step 4
Position your head in a neutral position that is in line with your spine. Keep your gaze looking forward and not at the ground.
Step 5
Open your mouth slightly to ensure proper breathing. Tighten your glutes and abdominals.
Step 6
Step with your heel first and then distribute your weigh onto your toe while using your hips to push you forward.
Step 7
Alternate arms and legs forward to maintain walking in a straight line.
Step 8
Cool down by slowing your pace and dropping your arms by your sides. Continue decreasing your pace until your heart begins to gradually return to normal. Stretch each muscle for 20 to 30 seconds each.
Things You'll Need
Walking shoes

Comfortable clothing
Tip
Do not bring arms across the body; arms should move in a forward direction. Wrists should pass your hip bone when moving them back and forth. Do not swing your elbows higher than your breastbone.
Warning
Do not walk with hand or ankle weights. Adding weights to your walk will not increase the calories burned, but may cause injury to your joints, tendons and ligaments, according to DiscoverWalking.com.