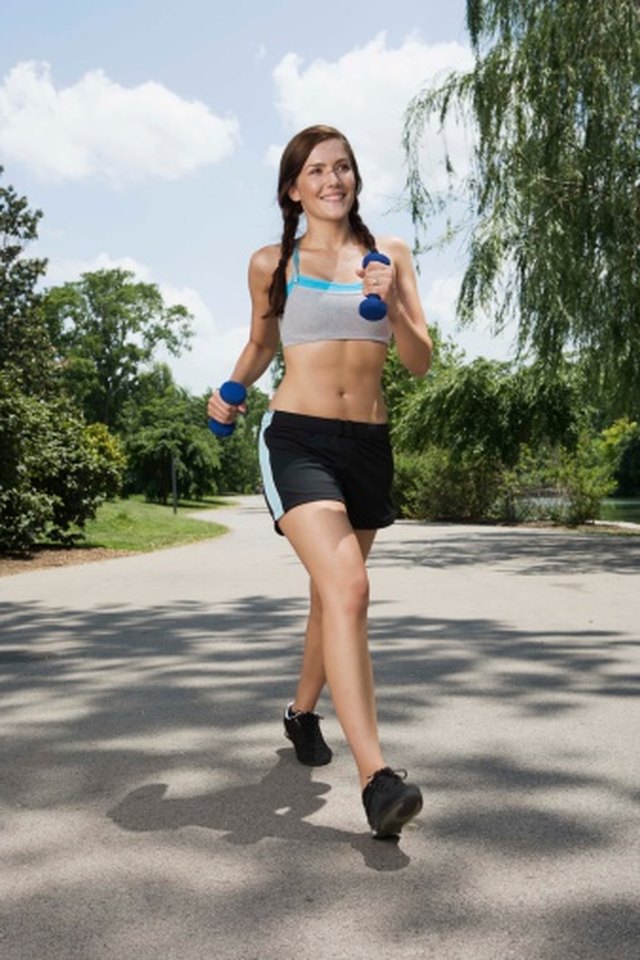 Walking is a relatively easy, low-impact way to exercise, and due to its gentle pace, it's not among the highest calorie burners. However, you can ramp up the calorie-burning potential of any walk by strapping on a pair of ankle weights. Not everyone agrees that putting on weights is helpful, but if you're mindful of safety while using them, they can bring great benefits to your workout.
Benefits
In addition to helping you burn more calories as you walk, ankle weights encourage greater muscle activation. In essence, they allow you to combine cardio and strength training, with the effect of burning calories and building muscle simultaneously. The weights also enable you to speed up progress of any weight-loss plan. Walking on its own burns only about 275 calories per hour for a 160-lb. person. However, the American Council on Exercise notes that people who wear light weights during exercise burn approximately 5 to 15 percent more calories on average than people who do not wear weights.
Risks
Walking is an effective exercise on its own, so it's really not necessary to use ankle weights along with it. In fact, if you're just beginning an exercise program and are out of shape or haven't been active for a while, the weights can present too much of a challenge and may prove to be discouraging or painful. It's also worth considering that heavy weights can strain your muscles and joints, causing discomfort or injury.
Guidelines
ACE recommends that if you do use ankle weights while walking, you limit the weight amounts to no more than 3 lbs. Contending with heavier weights may be more likely to cause injury, but very light weights pose only a small injury risk and offer more benefits than potential downsides. Make sure to strap on weights securely before you begin walking and to take them off if you experience any pain or discomfort.
Considerations
If you have any kind of lower body injury or joint pain, it's advisable to check with your doctor before you begin to use ankle weights in your workouts, since they may not be appropriate for you. A potential alternative is holding light dumbbells or strapping on wrist weights while you walk, which will also help boost your calorie burn and activate muscles in the upper body. Finally, be aware that although the potential benefits do outweigh the risks of using ankle weights, no exercise is completely risk-free. To keep the weights as comfortable as possible, build up to using them by starting with just short intervals and gradually extending your workouts.