Research shows that we have many types of bacteria in our bodies, both good and bad. Probiotics are healthy bacteria in our gut that, when ingested, promote positive effects on the host. Bifidobacteria and Lactobacilli are probiotics that inhibit the growth of many disease-causing bacteria and help prevent several diseases.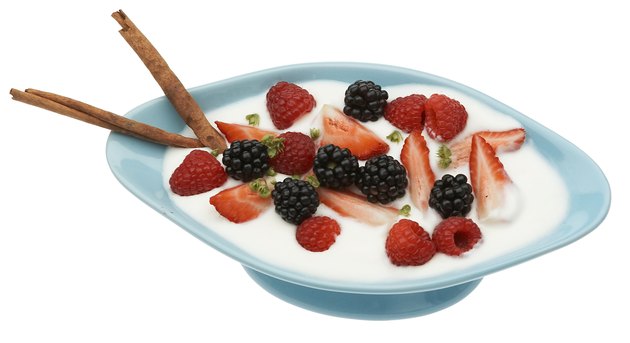 Benefits of Protiotics
Probiotics, when taken in proper amounts, can have many beneficial effects on the body, such as improving lactose digestion and treating diarrhea, as well as preventing gastroenteritis and intestinal infections. Recent studies have shown that replacing milk with yogurt that contains probiotics allows for better digestion and decreases diarrhea and other symptoms of intolerance in subjects with lactose intolerance. Other controlled studies on rats have shown that the administration of probiotics reduces the risk of antibiotic-associated diarrhea.
Mild Symptoms of Too Many Probiotics
Probiotics clearly have many beneficial effects on the body; however, it is possible to get too much of a good thing. Knowing the side effects of probiotics can help you increase your awareness of what you should look for in a probiotic food supplement. Gas and bloating are two of the most common side effects of consuming too many probiotics.
Susceptible Populations
People with underlying health problems should consult a physician before taking probiotics. According to the National Center for Complementary and Alternative Medicine, the safety of probiotics has not been thoroughly studied and more information is needed on how safe they are for children, elderly and people with compromised immune systems. When taken in proper amounts, probiotics may enhance the immune system; however, in excess, they can overstimulate the immune system and cause problems with metabolism.
How Many Probiotics Should You Take
When you first start taking probiotics, you may experience symptoms such as gas, bloating, headaches or skin rashes. Generally, these symptoms will reduce with time. To allow your body to get used to fermented foods and drinks, you should start with a small amount of cultured vegetables such as half a cup, or no more than 2 ounces of probiotic liquid per day. As your body starts to get used to the probiotics, you can add half a serving of fermented vegetables, or an extra 2 ounces of probiotic liquid per day.