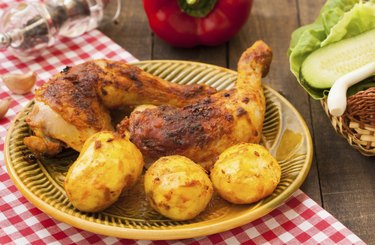 Chicken leg quarters are an inexpensive and practical protein choice for large families, parties or to stock your freezer with convenient, pre-cooked chicken. Skip the messy clean up by roasting chicken leg quarters in an easy-to-use oven cooking bag. Cooking bags, made of heat-proof nylon, produce moist and delicious meat. The bag will contain the juices, allowing you to make a delicious gravy to serve alongside roasted chicken leg quarters.
Step 1
Preheat the oven to 350 degrees Fahrenheit.
Step 2
Rinse and pat dry each chicken leg quarter. Remove the skin with kitchen shears if desired.
Step 3
Season each chicken leg quarter with salt and pepper.
Step 4
Sprinkle 1 tablespoon of flour into a large-size oven cooking bag. Hold the bag closed and shake gently to distribute the flour.
Step 5
Place the chicken pieces into the oven cooking bag. Tie the bag closed using the included tie.
Step 6
Place the oven bag into a 2-inch deep baking pan. Distribute the chicken pieces evenly throughout the bag.
Step 7
Bake the chicken leg quarters for 45 to 50 minutes, or until the chicken reaches an internal temperature of 180 degrees Fahrenheit.
Things You'll Need
Chicken leg quarters

Kitchen shears

Salt

Pepper

Oven cooking bag and tie

Flour

2-inch deep baking pan

Instant read meat thermometer
Tip
While salt and pepper will season chicken leg quarters, you can opt for your favorite seasoning blend, lemon juice and garlic, or other flavorings for tastier chicken. Shred or chop the cooked chicken for use in other recipes.