While not common in North American diets, bone gristle -- also referred to as tendon or cartilage -- is often found in Asian and Southeast Asian cuisines. It can be used as a soup or stew ingredient, as a thickener for broths or eaten seasoned on its own.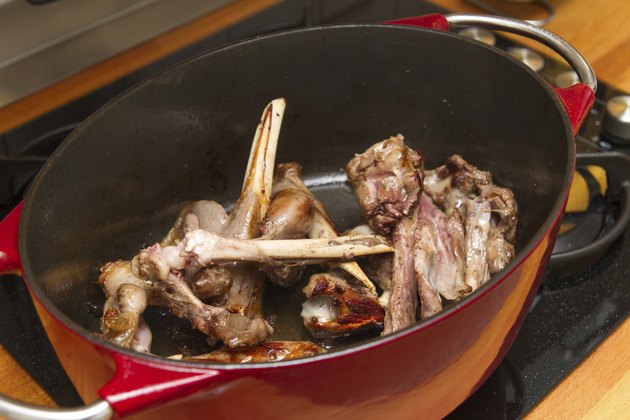 The Makeup of Gristle
Bone gristle contains the nutrients of bone as well as the tendon, according to the Jade Institute. It is rich in collagen, glucosamine, chondroitin sulfate and elastin, as well as other nutrients. Glucosamine sulfate has been shown to be potentially beneficial in treating osteoarthritis, and in Asian cultures, eating tendon is believed to promote healthy skin, joints and hair. However, these purported health benefits are not supported by Western research.
Bone Loss
Bone gristle is high in collagen and elastin, and broths or dishes made from bone gristle may help reduce overall bone loss, according to a study published in a 2012 issue of "Osteoporosis International." Scientists found that a diet containing hydrolyzed collagen helped improve overall bone mineral density over a period of 26 days. This animal study also found that taking hydrolyzed collagen one month before surgery prevented bone mineral density loss. While the study found that a diet containing collagen helped reduce bone loss in mice, further human and longterm study is needed.
Other Health Benefits
Making broths from bones containing significant amounts of gristle -- such as from beef or pork knuckles, chicken feet or rib bones -- can produce a highly nutritious soup that is inexpensive to make at home. Cartilage may be helpful in treating certain joint diseases, arthritis and inflammatory bowel disease. It is also helpful in boosting your immune system function. A diet high in collagen may also provide extra support for your tendons and ligaments, and increase skin elasticity.
How To Eat It
One of the most common methods of consuming bone gristle is through bone broths. Cut, or have your butcher cut, pieces of bone — from poultry, beef or fish — into 2- to 3-inch pieces, then place them in a large stockpot with just enough water to cover the bones. Add a small amount of vinegar — any kind will do — or lemon juice, bring the stock to a boil and reduce to a gentle simmer. Cook for one to two hours. Add chopped vegetables and herbs to the stock to increase flavor. To cook whole pieces of tendon, boil or steam the tendons until they are soft and translucent. As tendons have little flavor on their own, season them after cooking with salt, soy sauce, fresh herbs, flavored oils or vinegar.