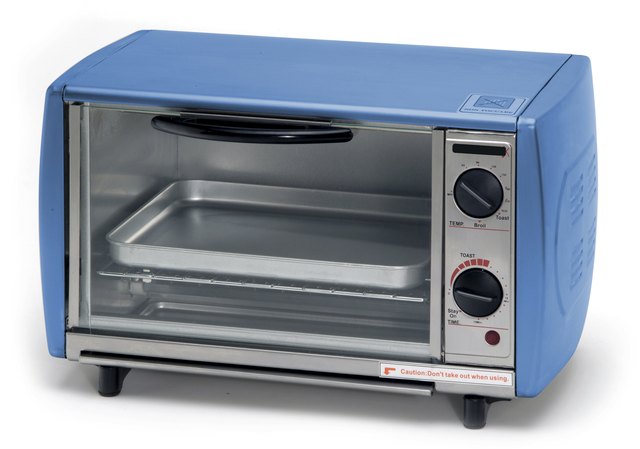 When you want to cook dinner for one or two people, turning on your full-sized oven isn't always practical. Large ovens use lots of energy, which can increase your energy bill as well as heat up your house during the warmer months. Fortunately, a toaster oven can do a lot more than make toast. If you have one with a broiler function, you can prepare a variety of meats for yourself and your loved ones.
Step 1
Pat your meat dry with paper towels. Dry meat browns more effectively than meat with moisture clinging to the surface, as surface moisture cools the surface of meats, slowing their cooking time. Good browning also helps produce good flavor.
Step 2
Tear a piece of aluminum foil off the roll. The sheet should be at least 12 inches long. Crumple it into a foil "snake" and arrange it in a repeating S shape in your toaster oven's broiling tray. This makeshift-rack trick, recommended by "Cooks Illustrated" magazine lifts the meat above the tray and allows juices to drain. If you have a toaster-oven-sized broiling rack, you can also use that.
Step 3
Place your meat on your foil "rack" and sprinkle the meat with salt and pepper. Slide the tray into your toaster oven and turn on the oven's broiler, positioning your toaster oven's rack so that the top of the meat will be at least 3 inches from the heating element.
Step 4
Cook your meat for 2 to 4 minutes per side, or until it has reached your desired doneness. Properly cooked meat should be deep brown for steaks and lamb, golden brown for pork. Allow the meat to rest for about 3 minutes before serving.
Things You'll Need
Toaster oven with broiler setting

Toaster oven baking pan

Aluminum foil

1 pound thin steak, pork chops, or lamb chops

Salt and pepper
Tip
You can also use a toaster oven to cook more delicate proteins such as fish. To do this, wrap the food in aluminum foil and bake at 300 or lower, until the internal moisture in the food steam cooks it, about 5 to 7 minutes.
Warning
Refrigerate any leftovers within 2 hours of cooking.