As its name implies, a skinny margarita is a lower-calorie version of a regular margarita. This is a great option for those who want don't want to stop imbibing while trying to lose weight. Instead of syrupy sweet margarita mixes, the skinny margarita keeps it simple: tequila, fresh lime juice and an orange-flavored liqueur, with or without a salt rim. You won't get much in the way of nutrition from this drink, but you will save a few calories.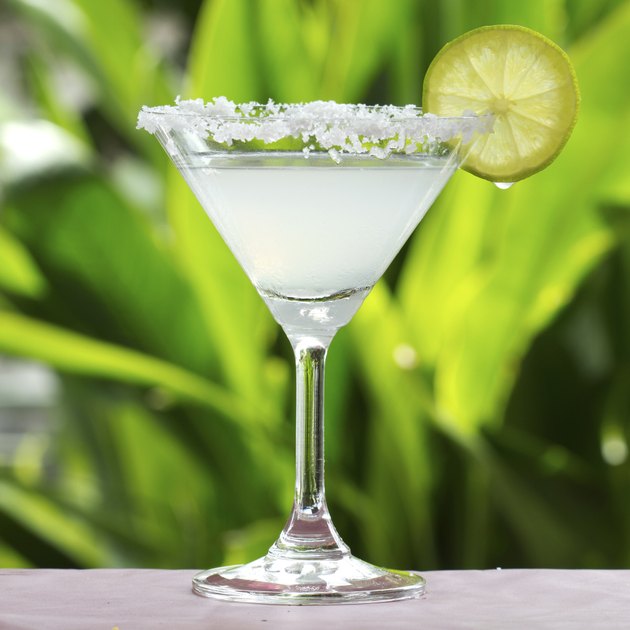 Calorie Details
The calories in a skinny margarita will depend on the recipe you use and the size of the drink. If you make your drink at home, you can keep careful control of this; however, if you're sipping at a bar or restaurant, it's often hard to know how many calories you're taking in. Eating Well's skinny margarita, which includes a little bit of seltzer water, has 181 calories per 2/3-cup serving, and Cooking Light's skinny margarita weighs in at 130 calories in a similar-sized serving.
Calorie Breakdown
In a skinny margarita, most of the calories come from the tequila, which has 69 calories per ounce. Most recipes call for 1 to 1.5 ounces of tequila per cocktail, which adds up to 69 to 104 calories from the tequila. One-half ounce of an orange-flavored liqueur is a standard addition, providing about 51 calories. The rest of the calories come from the lime juice -- expect that to provide less than 10 calories per ounce.
Carbs, Sodium, Potassium and Vitamin C
Alcohol itself provides no nutrition outside of calories, so the only nutrients you are bound to get from a skinny margarita come from the lime juice and salt. Eating Well's skinny margarita provides 12 grams of carbohydrates, coming from the orange-flavored liqueur and the lime juice -- tequila does not contain carbs. If you salt the rim of your glass, expect to get about 100 milligrams of sodium. One-and-one-half ounces of lime juice provides about 40 milligrams of potassium and about 15 percent of the daily value for vitamin C.
Perfect Pairings
An occasional skinny margarita can fit into anyone's diet, but it's often paired with salty, fatty treats like chips and cheese dip. Avoid going overboard by pairing your skinny margarita with healthier nibbles. Trade out those cheese-covered chips for a lighter version of guacamole made by subbing half of the avocado with cooked zucchini. Avocados are a good source of heart-healthy monounsaturated fats, and zucchinis provide fiber and extra vitamin C. Keep the snack light by baking your own tortilla chips at home instead of buying packages of the deep-fried variety.