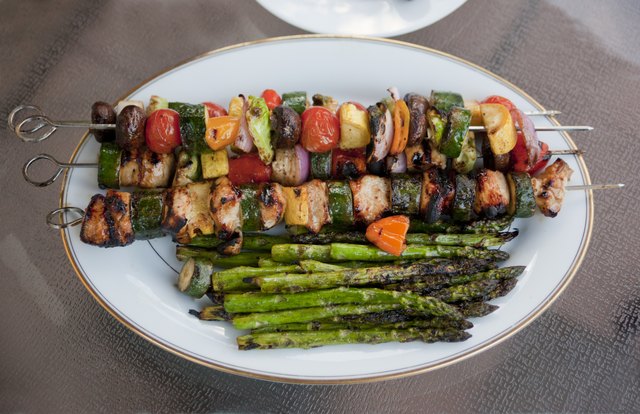 You can definitely lose weight by eating nothing but steamed veggies and chicken. Like all diets, it depends on watching the total calories consumed, but veggies and chicken are low enough in calories that you can eat plenty of food and still need to be concerned about getting too few calories. Combining vegetables and chicken also means you'll get most of the essential nutrients, but you won't get any vitamin D, and if you don't include starchy veggies, you'll also lack carbohydrates.
Limit Calories to Lose Weight
A 3-ounce serving of roasted chicken breast without the skin has 140 calories, while skinless dark meat contains 151 calories. Even with the skin on, 3 ounces of breast meat only has 167 calories. With only 3 grams of total fat and less than 1 gram of saturated fat, skinless breast meat is extra lean. Skinless dark meat and breast with the skin have double the fat, yet they still qualify as lean, according to the U.S. Food and Drug Administration.
You can't go wrong with steamed veggies whether you're trying to lose pounds or maintain your current weight. A serving of most vegetables ranges from 10 to 45 calories, and they're fat-free. Nonstarchy veggies are free foods on most diets, which means you can eat as much as you want, providing you don't add high-calorie toppings such as butter and cheese or cream sauces. The starchy veggies -- white and sweet potatoes, corn, peas, winter squash and beans -- aren't free foods because they're higher in calories. As a general guideline, calculate 80 calories per 1/2 cup of cooked starchy veggies and 25 calories for 1/2 cup of cooked nonstarchy veggies.
Protein and Fiber Boost Weight Loss
A diet consisting of steamed veggies and chicken is high in two nutrients known to support your weight-loss efforts -- protein and fiber. Vegetables are packed with water and fiber, which add a lot of bulk without contributing calories. Instead of cutting down on portions, this lets you eat enough to feel full without ruining your daily calorie goal. The extra bulk from fiber distends the stomach, which signals your brain that you're full. The fiber from veggies and protein in chicken slow the movement of food through the stomach and small intestine, which makes you feel full longer.
Fiber and protein also help prevent spikes in blood sugar after you eat, which helps you lose weight. When levels of blood sugar suddenly increase, the high is followed by a significant dip in blood sugar, and this makes you feel hungry again shortly after eating. High blood sugar triggers the release of insulin, which does two things that prevent weight loss: It sends signals telling the body to take some of the sugar and convert it into fat for storage, and it inhibits the breakdown of fat that's already stored, reports Colorado State University.
Nutrients in Steamed Veggies and Chicken
If you follow a steamed veggie and chicken diet, you'll get plenty of protein because one 3-ounce serving of chicken breast supplies at least half of the recommended intake for protein. Chicken is also a good source of vitamin B-6, but it lacks vitamins C, A, E, D and K. While all vegetables contain varying amounts of those five vitamins, it only takes a few specific choices to fill in the gap.
One medium bell pepper and a stalk of broccoli provide at least 100 percent of the daily value of vitamin C, based on consuming 2,000 calories daily. You'll get more than 100 percent of the daily value of vitamin A from a medium-sized carrot or sweet potato. Broccoli and spinach contain vitamin E, while green leafy veggies are good sources of vitamin K.
Combining diverse colors of veggies with chicken ensures you'll get almost all of the essential minerals and vitamins, but the total amount of food you consume determines whether you'll get 100 percent of the daily requirement. This diet doesn't supply any vitamin D, so take a multivitamin to get vitamin D and to ensure you don't lack other nutrients.
Veggie and Chicken Diet Concerns
This diet has a good chance of being very low in calories and carbs, which can be a health concern. If your daily diet includes three 3-ounce servings of skinless chicken breast, 4 cups of cooked veggies and a baked sweet potato, you'll get about 720 calories. Adding a cup of peas or beans brings the total up to about 880 calories. Consuming 800 calories or less each day is a very-low-calorie diet. While you'll quickly lose weight eating so few calories, chances are high that you'll gain them back when you eat normally again.
Don't stay on a very-low-calorie diet for more than a few days without consulting a registered dietitian or your physician. Very-low-calorie diets should always be supervised by a health care professional because they don't supply sufficient energy, and they can cause side effects such as fatigue and gallstones, notes the National Institute of Diabetes and Digestive and Kidney Diseases.
You'll boost carb intake by including starchy veggies on the menu, but you could still be short of the recommended 130 grams daily, depending on how much you eat. One medium sweet potato has 23 grams of carbs, and 1 cup of cooked starchy veggies adds 30 grams, so if your 4 cups of veggies were all starchy, you would get the minimum number of carbs. The starchy veggies also add calories -- and you can boost calories with extra servings of chicken -- but if starchy veggies replace other types of veggies, you'll lose vitamins and minerals.