Magnesium is an essential mineral that serves multiple important functions in the body, including enzyme activation, energy production and bone mineralization. While magnesium is plentiful in foods like legumes, nuts, whole grains and green leafy vegetables, people whose dietary magnesium intake is low or who have certain health conditions, including sleep disorders, may benefit from taking a dietary supplement of magnesium. However, consult your doctor before taking magnesium supplements, especially if you have a health condition or take medication.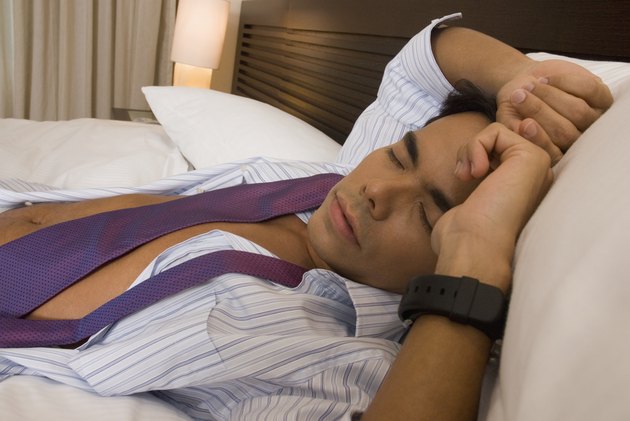 Magnesium, Relaxation and Sleep
Magnesium is an important nutrient for nerve and muscle relaxation and is therefore an oft-recommended nutritional supplement for stress, muscle tension and sleeplessness. Magnesium deficiency may cause insomnia as a side effect, and taking supplemental magnesium to address such a deficiency may thus serve as an antidote for insomnia to help you fall, and stay, asleep, according to a January 2010 HuffingtonPost.com article written by practicing physician Mark Hyman, M.D. Limited research also suggests magnesium might improve sleep in patients with restless leg syndrome, notes MedlinePlus, an online resource of the National Institutes of Health.
Magnesium to Boost Energy
While magnesium may help promote restful slumber for some people with sleep problems, it may also help cure unwanted tiredness caused by certain conditions. For example, magnesium deficiency can cause not only insomnia but also sleepiness; taking magnesium supplements to treat a deficiency may also treat tiredness caused by the deficiency. Also, according to the University of Maryland Medical Center, some studies indicate that magnesium supplements may help relieve fatigue associated with chronic fatigue syndrome, or CFS. To be effective for CFS, magnesium may need to be taken as an injection, however.
Recommendations
The dietary reference intakes, or DRIs, for magnesium required to prevent magnesium deficiency and its accompanying symptoms such as insomnia are as follows: 400 milligrams daily for adult males aged 19 to 30; 420 milligrams/day for men aged 31 and older; 310 milligrams/day for women aged 19 to 30; and 320 milligrams daily for women over 30. Magnesium needs may exceed these guidelines, however, during recovery from surgery and illnesses, athletic training, pregnancy and breast-feeding. Talk to your physician about whether you might benefit from taking a magnesium supplement.
Precautions
Although magnesium supplements are "likely safe" for most adults when taken in oral doses of less than 350 milligrams per day, higher doses of magnesium are "possibly unsafe," warns MedlinePlus. Taking too much magnesium can cause severe side effects, including slowed heart rate, low blood pressure, respiratory paralysis, coma and death. For people with certain health problems, such as kidney disease, even moderate supplemental doses may cause excessively high blood levels of magnesium and resulting serious side effects. Magnesium may also increase the side effects of certain medications, including muscle relaxants.