Constipation is a frequent problem in the United States -- the National Digestive Diseases Information Clearinghouse website indicates that over four million Americans suffer from frequent constipation. Your physician may suggest taking magnesium citrate to help relieve this condition, but you should consider avoiding alcohol consumption in conjunction with this medication. Understanding what happens when you drink alcohol after taking magnesium citrate will help you make the wisest decision.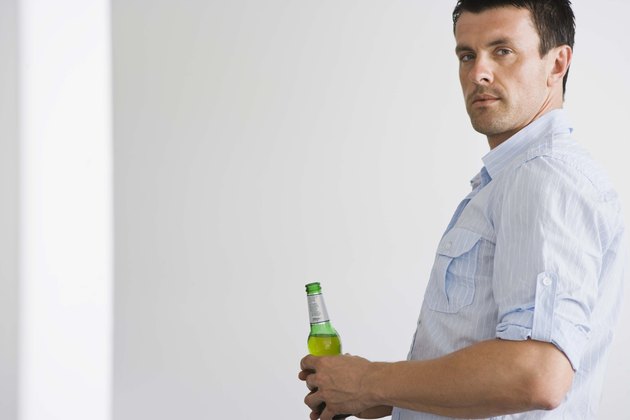 About Magnesium Citrate
Magnesium citrate is an oral laxative that is taken as a liquid. It eases constipation by increasing the amount of water in your intestines. This action helps soften stool and encourage defecation. It is not meant for long-term use, so unless your physician instructs you to, don't use magnesium citrate for longer than a one-week period. Don'ot take this laxative if you are experiencing abdominal pain, nausea or vomiting.
Alcohol and Magnesium Citrate Effectiveness
Drinking alcohol after taking magnesium citrate is not advised. Constipation may occur because you're not drinking enough liquids. You may be tempted to drink more liquids to treat constipation, but doing so is not enough by itself to cure this condition. In some cases -- for instance, if you drink alcohol -- constipation may worsen. Alcohol is a diuretic, which may trigger severe dehydration and compound constipation. If you drink alcohol after taking magnesium citrate, it may block the laxative's effects.
Alcohol Effects and Laxatives
In addition to the potential for making magnesium citrate less effective, drinking alcohol after magnesium citrate consumption may influence the rate at which you become drunk. Laxatives like magnesium citrate do more than help empty your bowels of fecal matter -- they may clear your intestines of food. Magnesium citrate is best taken on an empty stomach, so if you drink alcohol after the laxative has been effective, you are essentially drinking alcohol without any food in your stomach. Drinking without any food in your system means you will become drunk faster.
Safe Alcohol Consumption
You may safely consume alcohol roughly four hours after taking magnesium citrate. Taking magnesium citrate on an empty stomach results in a bowel movement 30 minutes to three hours after consumption. Wait an additional hour to eat to avoid the effects of magnesium citrate on your intestines. If you take smaller doses of magnesium citrate on a full stomach, it may take longer to produce a bowel movement, so wait until you have had one before consuming alcohol.