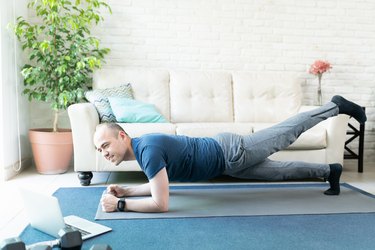 If you've noticed your hips are feeling extra tight lately, you're not alone. There are endless reasons you may develop hip pain or hip tightness — and sometimes, it can be hard to figure out the cause. On the flip side, knowing and doing some targeted exercises for tight hips can help you get some relief.
Hip pain and hip tightness can be related to anything from over- or underusing the muscles in the hips, to lower back pain, to more serious conditions like fractures, says Curtis Wu, DPT, a certified strength and conditioning specialist (CSCS) at Hospital for Special Surgery in Paramus, New Jersey.
What Causes Hip Pain and Tightness
Hip pain can stem from conditions, such as osteoarthritis, tendinitis or injuries like dislocations, fractures and tears, according to the Mayo Clinic.
Sitting all day doesn't help with hip tightness or pain either. "In otherwise healthy individuals — without any underlying medical conditions or surgical history — people who are generally sedentary can experience symptoms of hip tightness among other musculoskeletal complaints throughout the body," Wu says.
That's because when you're sitting, your legs are bent at the hips so your hip flexors are in a shortened position for hours on end, which can lead to dysfunction and tightness.
But keeping up with a workout routine and doing exercises for hip pain can help. "People who are more physically active tend to have less disability, live longer and have fewer chronic medical conditions," Wu says. "Many of the consequences of physical inactivity can cause symptoms of joint tightness across the body as well as affect the experience of pain."
The location of the pain can give clues as to what is causing the problem. If your hip joint is the issue, the Mayo Clinic says you will feel pain on the inside of your hip or groin. But pain on the outside of your hip, glute or upper thigh area is typically a result of issues with muscles, ligaments or tendons that surround the joint.
4 Exercises to Avoid With Hip Pain — and What to Do Instead
Exercises that repetitively shorten the muscles in the front of the hip and rarely lengthen them can exacerbate any existing hip tightness, says Cameron Yuen, DPT, CSCS, a senior physical therapist at Bespoke Treatments. "If you don't train the hips through their full range [of motion], they will have trouble getting into extended positions actively," he explains.
Here, Yuen breaks down exercises to avoid with tight hips, and the exercises you can do instead to help make them feel better.
There's no denying that mountain climbers are great for working dynamic core stability, but they may not be the best exercise if you're prone to tightening in the front of the hips, Yuen says.
"Most people tend to arch their back in the high plank position, which leads to a tilted pelvis and shortening of the hip flexors," he explains. When you then use your hip flexors to bring your knees into your chest, it can reinforce this shortened position.
Fix It
Try doing a plank with hip extension pulses. "This movement requires that you hold a plank, but instead of bringing your knees to your chest, you kick your heel up to the ceiling. This actively gets your hips into extension, lengthening the front of your hip while still working your core dynamically," Yuen explains.
Plank With Hip Extension Pulses
Activity
Mobility Workout
Start in a high plank position with your shoulders stacked above your wrists. Engage your core and glutes, and make sure that your lower back isn't arched.
Bend one knee to 90 degrees, and squeeze the glute and abs as you kick your heel up to the ceiling. The kick should be small and controlled. Avoid hyperextending your back as you kick up.
Continue this movement on the same leg for a set number of reps, and then repeat on the other leg.
Hanging leg lifts are another exercise that you might be doing to strengthen your core. "However, due to the weight and length of your legs, the powerful hip flexors tend to take over, making it less of an ab exercise and more of a hip flexor exercise," Yuen says. This is compounded if you don't fully return to a neutral position after each rep, he adds. "So the hips stay flexed throughout the entire movement."
Fix It
Try hanging knee lifts, which is essentially the same movement. By simply bending your knees, you can more effectively engage your abs instead of relying too heavily on your hip flexors to facilitate the movement. "You will still use your hip flexors to a degree, but you can bias the exercise more toward your abdominals, while also lengthening the front of your hips," Yuen says.
Hanging Knee Lift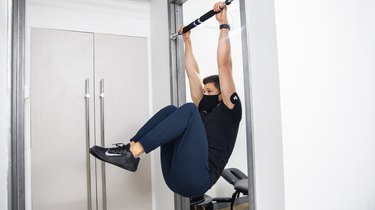 Activity
Mobility Workout
Start by hanging from a pull-up bar with a long spine.
Contract your abs as you bring your knees to your chest. Try to bring the knees up by pulling up through the abs and rounding the lower back.
Return to full hip extension at the bottom of the movement, lengthening the abdominals and hip flexors.
The sit-up is yet another ab exercise that tends to over-engage the hip flexors and may contribute to pain or tightness in the hips. "This isn't necessarily a bad thing, but if your goal is to train your abdominals rather than your hip flexors, there might be better options," Yuen says.
Fix It
Try a reverse sit-up. "In the reverse sit-up, movement happens through the spine, rather than the hip," Yuen says. And since it keeps the hip flexors in a shortened position, they're not very useful during the sit-up motion, which forces the movement to come from the abdominals.
Reverse Sit-Up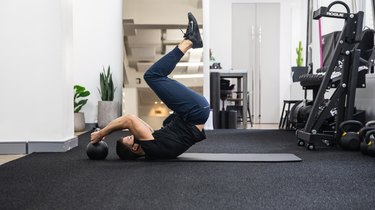 Activity
Mobility Workout
Place a heavy kettlebell or dumbbell on the ground above your head where you will be lying. Hold onto this as your anchor throughout the movement.
Lie flat on your back with your feet lifted off the floor, knees bent.
Initiate the movement by contracting your entire core and pulling your pelvis toward your ribs. Allow your body to rock back so that your butt comes off the floor.
Lower yourself back down until your hips reach the ground.
"The lat pulldown is a great exercise for developing the upper back and arms, but like the sit-up, it uses your hip flexors to anchor you in place," Yuen says. This means the hip flexors are engaging throughout the entire set — which isn't ideal if you've already got tightness here, he says.
Fix It
Try pulldowns from a tall kneeling position. "In a kneeling position, your hips are extended, glutes are contracted and the hip flexor is lengthened," Yuen says. "You will still get the upper back and arm development you would from the seated position, but you get to work on opening up the hips at the same time."
Kneeling Lat Pulldown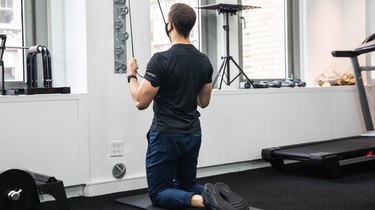 Activity
Mobility Workout
Either set up a resistance band at a high anchor or use a lat pulldown machine.
Kneel down on both knees, squeezing the glutes and abs to keep your lower back from hyperextending. Extend your arms overhead to hold the band or cable with both hands.
Pull the band or weight toward your sternum while maintaining the high kneeling position.
Slowly extend your arms back out. Avoid letting the band or weight snap back quickly.
Was this article helpful?
Thank you for your feedback!