Muscle weakness in pediatrics, also known as hypotonia, may be a symptom of an underlying medical condition. If you suspect that your child is experiencing abnormal muscle development, consult a doctor as soon as possible. Depending on the diagnosis, your child's doctor may recommend that your child perform specific leg-strengthening exercises under the close supervision of a qualified physical therapist.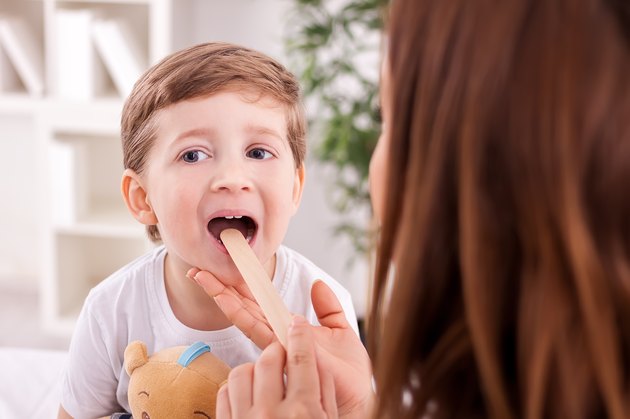 Causes of Weak Leg Muscles
Weak leg muscles in children sometimes are associated with muscle or genetic disorders or disorders of the central nervous system. Medical conditions that may cause weak leg muscles in pediatrics include muscular dystrophy, cerebral palsy and Down syndrome. Physical therapy exercises may help prevent or slow deterioration of your child's leg muscles. Strength-training exercises performed during physical therapy sessions may help improve your child's muscle tone.
Physical Therapy
Children diagnosed with hypotonia of the legs should engage in exercises only under the supervision or mandate of a licensed physical therapist. A qualified physical therapist can create a specialized exercise program that meets the individual needs of your child. Lack of medical supervision may result in muscle tissue damage or other injury, as children with hypotonia have underdeveloped muscle tissue and, possibly, irregular muscle tone.
What to Expect
After a qualified physical therapist has measured your child's muscle tone and strength, he likely will guide your child through a series of leg-strengthening exercises. Common tactics include simple range of motion exercises such as leg lifts performed in various positions – seated in a chair or lying down. Functional activities, such as climbing over obstacles or jumping on a trampoline, may also be incorporated into therapy sessions. These activities improve your child's ability to perform daily tasks such as stair climbing and recreational play. Your child's physical therapist may provide you with detailed instructions on home-care exercises you can help your child perform between office visits.
Mild Cases
In extremely mild cases of hypotonia, physical therapy may not be needed or even recommended. Your child's doctor can help determine the best course of action to help treat your child's weakened leg muscles. The doctor may simply suggest that your child increase muscle tone by engaging in physical activity, such as swimming, running around at the park or general play.