The U.S. Department of Agriculture recommends that most dairy food choices be fat-free or low-fat. When you are baking, you follow this recommendation to lighten up your cake, muffins, cookies or bread. Substituting skim milk for whole milk can affect the texture and taste of your final product -- but if you aren't comparing it side-by-side with one made with whole milk, you are unlikely to notice a huge difference in most baked goods.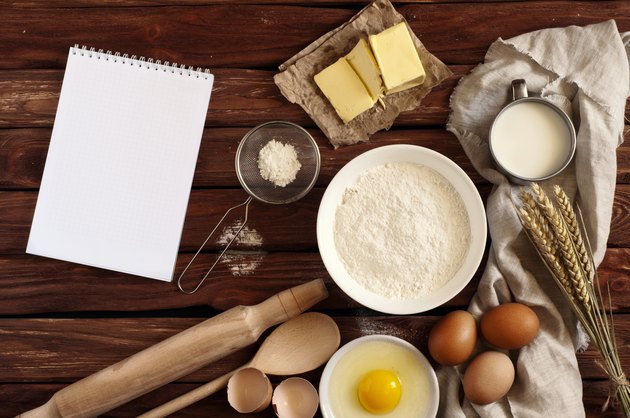 Fat Content
Whole milk and skim milk differ in fat content. While whole milk contains about 3.5 percent fat, skim milk has none. Much of the fat in whole milk is saturated, and too much saturated fat can raise your risk of developing heart disease, says the American Heart Association. Because of the absence of fat, skim milk tends to have a watery, thin texture when compared to whole.
Role in Recipes
In most baked goods, milk is a liquid that helps bind together the dry ingredients. The fat in whole milk helps tenderize and moisturize baked foods as well. Cakes and muffins made with whole milk tend to be moister and finer in texture than those made with skim milk. If a recipe calls for milk, but does not specify fat percentage, assume it means whole milk.
Subbing With Skim
When cooking at home, you can substitute skim milk for whole milk in most baking recipes. Because you have removed some of the fat, the product is more vulnerable to turning out dry and tough. Take extra care to not overmix the batter, which can further toughen your goodies. If you take other measures to lighten up the recipe -- using egg whites in lieu of whole eggs or replacing butter or shortening with fruit puree -- you can expect that your product will be on the drier side than if you had used all the fat called for by the recipe originally.
Other Options
If you are not watching the fat and calorie content of your baked goods, and are using skim milk because it's all you have on hand, you can make a mock whole milk by combining 1/2 cup evaporated milk with 1/2 cup water to create a whole milk substitute. You could also blend 1 cup of skim milk with 2 tablespoons of melted butter or margarine to make up for the missing fat. Another option is to choose reduced-fat milk to replace whole milk. It could still affect the final texture of the product, but will be less dramatic than if you use skim.
Is This an Emergency?
If you are experiencing serious medical symptoms, seek emergency treatment immediately.